Voters May Decide Fate of Downtown Palm Springs
Angela Monroe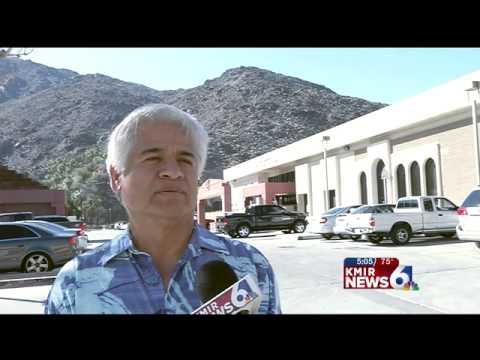 video
Photo: Video by kmir6.com
CREATED Feb. 28, 2013
The future of the former Desert Fashion Plaza in downtown Palm Springs could once again be in the hands of voters.
A group opposing part of the plans for the new development gathered enough signatures on a petition to put the project back before council.
The Downtown Revitalization Plan could be on the ballot for a special election on June 4th.
The group that gathered signatures for the petition says the citizens of Palm Springs need a voice on this project.

The Desert Fashion Plaza is being torn down, piece by piece.
The plan is to replace it with a new set of stores, and a six-story hotel approved by the city.
But Citizens for a Sustainable Palm Springs worry about the height and size.
"We're okay with the demolition, this place needs to, it's a ghost town, it needs to be done, we understand all that. But the density of they're proposing is not something that we feel is aligned to the traditions and the historical values of Palm Springs," said Manny Montoya with Citizens for a Sustainable Palm Springs.
Because the group gathered enough signatures, city council must reconsider approval of the hotel, or put the decision to the voters.
"Council approved this project based on the downtown specific plan that was approved long ago, at a significant amount of community input, and this is what we believe the project that will revitalize our downtown, and we still think there is a lot of support for it," said Palm Springs City Manager, David Ready.
Both the developer of the project, and Citizens for a Sustainable Palm Springs, believe the community will support their side.
"If it goes to the ballot, we're going to be organized, we're going to make sure the residents of Palm Springs have a voice, and just like we were able to secure the signatures, we will secure the majority to put this into the consensus in a vote," said Montoya.
Vice President of Wessman Development, Michael Braun, sent a statement saying, "The Downtown Revitalization Plan has tremendous support among the community. Based on comments the city from citizens during the many public hearings during the approval process over the past 6 months it appears the project will be widely supported by Palm Springs voters in June."
We asked potential voters their thoughts.
"I'm all for it because I think Palm Springs has lost a lot of business, everything has moved out to La Quinta, Rancho Mirage or Indio, so I'm all for it," said Palm Springs resident, Cody Ramirez.
"I think if it can be done in a way that does not obstruct the views, the beautiful views of the mountains and of course take into consideration the buildings around it, if it blends in well, I think it's a good deal," said Palm Springs resident, Glenn Flood.
Palm Springs City Council will decide next Wednesday whether to put the issue on the ballot.