Police Associations speak out Against Dr. Raul Ruiz
Adrianna Weingold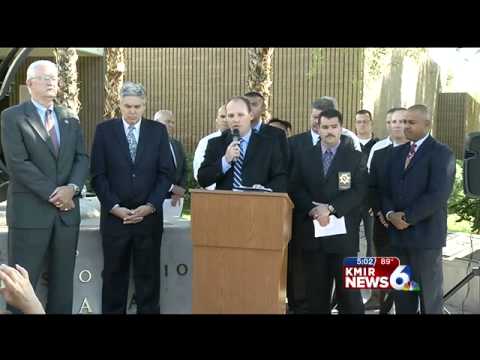 video
Photo: Video by kmir6.com
CREATED Oct. 23, 2012
PALM SPRINGS-- The attacks just keep coming between Congresswoman Mary Bono Mack and challenger Dr. Raul Ruiz. Last week Congresswoman Bono Mack's camp released an audio recording of Dr. Raul Ruiz supporting convicted FBI killer Leonard Peltier. Now there's even more drama. This time from local law enforcement.
First there was a picture released of Dr. Raul Ruiz being arrested at a protest in1997. Then, an audio recording from 1999 where Ruiz speaks out on behalf of a convicted FBI killer Leonard Peltier. Now, representatives from 9 police associations in Riverside County and the Coachella Valley met to discuss what they're calling some very serious concerns with congressional candidate Ruiz--particularly pertaining to comments they're calling "anti-law enforcement"
"You have two people running for congress and one of them has supported cop killers in the past and that is not something that anyone should be taking lightly," William Hutchinson, president of the Palm Springs Police Association said. "These are serious concerns and we're not going to simply blow it off as some old college prank that he did. These are very serious comments that he made and we don't take this lightly and all of law enforcement has taken notice to those events."
The police associations say are not endorsing either candidate. They are, however, raising questions about Dr. Ruiz's credibility--saying his support of a known cop killer raises concerns about his character and integrity.
Despite the on-going jabs from Congresswoman Mary Bono Mack-- Dr. Ruiz continues to hit the campaign trail. He spoke Monday in Cathedral city about Medicare. When we asked about the audio recordings in question, Dr. Ruiz was adamant about focusing in the future and where he stands on issues. Supporters at the meet and greet say Congresswoman Mary Bono Mack is just trying to create a distraction. "
"Congresswoman Bono Mack is losing," Opponent Dr. Raul Ruiz said." "She's very desperate and she is engaging in the policy of personal attack and personal destruction. We need to move beyond the politics of personal attacks and look at the politics of the future. We need to start looking at the vision that we have."
"He had said that he didn't know what he was reading. A letter that was handed to him and I know that's the kind of person he is, he was. [He was] so inflamed and had so much energy that he just read what they gave him so his character is110 percent American."

Dr. Ruiz stressed the importance of looking forward-- saying what he did in college shouldn't be the focus of the campaign.
Someone who will be endorsing Dr. Raul Ruiz is former president Bill Clinton --he's set to endorse several Southern California democratic congressional candidates at UC Irvine Tuesday. Former President Clinton will rally behind 5 candidates including Dr. Ruiz.
--Adrianna Weingold
aweingold@kmir6.com