Teachers Out in Full Force As Voter Registration Deadline Nears
Jessica Flores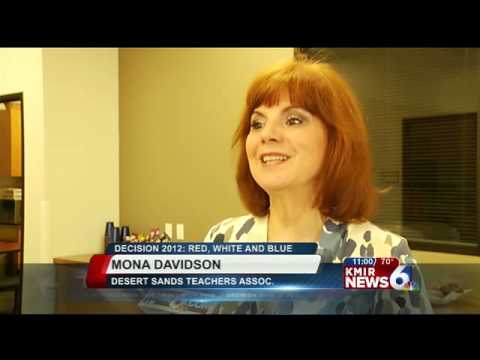 video
Photo: Video by kmir6.com
CREATED Oct. 20, 2012
COACHELLA VALLEY- With just a few days left for voters to register, the California Teachers Association members are in their final push to lock in votes on two key ballot measures.
Coachella Valley teachers walked door to door and handed out flyers, trying to secure "yes" votes of Proposition 30 and "no" votes on Proposition 32.
Proposition 30 would increase income taxes on the wealthy and raise sales tax by a quarter percent, in order to stop a six billion dollar cut to state schools, according to the campaign.
"If pop 30 doesn't pass Desert Sands is going to lose an additional 11 million, that is huge, it is devastating to the district," said Mona Davidson, President of Desert Sands Teachers Association.
Taxpayers Associations are against Proposition 30, arguing that California already has some of the highest tax rates in the country.
"Prop. 30 is tremendously flawed. It punishes small businesses and entrepreneurs who are already struggling to stay afloat in this difficult economy, and will only serve to drag our state further into recession," said Chris Mann, the president of the Inland Empire Taxpayers Association, "We need real budget reform, not another shell game."
Union leaders are also asking for no votes on Proposition 32. It would keep unions from using payroll deductions for political campaigns.
Supporter say it would reel in special interests in elections, but opponents like the CTA, say it's unfair.
"It just targets the groups like teachers and fire fighters and nurses and makes us unable to advocate for our students, because we are the students voice," said Davidson.
Voters are hearing a bit of everyone's voice this election. In the final stretch of campaigning, it's unclear yet whose message is sticking.
You can now register to vote online. TO LEARN HOW TO REGISTER TO VOTE, PLEASE VISIT https://rtv.sos.ca.gov/elections/register-to-vote/
Jessica Flores, KMIR6 News.