One Million Meals Needed for the Hungry
Adrianna Weingold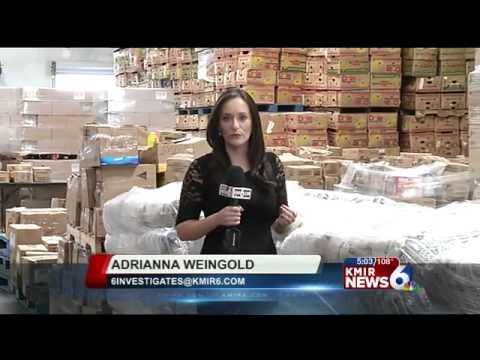 video
Photo: Video by kmir6.com
CREATED Sep. 17, 2012
INDIO--September is national hunger action month. Riverside and san bernardino counties have been hit hard in recent years from the economic slump-- they're now considered the fourth hungriest region in the nation.
Now two local groups are launching a food drive to bring one million meals to those in need here in the valley.
Tons of food is unloaded at find food bank every day in indio.
It takes 8 million pounds a year to satiate the growing number of hungry people.
"Right now in the Coachella Valley we have over 80,000 individuals who are receving food some how some way from one of our partner agencies on a monthly basis," Lisa Houston, CEO of Find Food Bank Said.
Lisa Houston is the CEO of Find Food Bank. She says the face of hunger has changed. Nearly 60 percent of the east valley and 40 percent of the west valley are food in secure. Meaning they have some money for food but not enough for everything they need to survive.
"It's just one of those things, let's say you were working full-time and you've been put to part-time but your debt load is based on that full-time income so you're not going to make it all the way through the month and that's what we call the working class poor," Houston said.
Find Food Bank goes through 8 million pounds of food a year, but they're expecting the need to increase by another million pounds in the coming year.
It may seem like there is a lot of food here but they actually need more--and they need healthy options like canned tuna, canned chicken, rice, beans and peanut butter--these are all excellent donation options.
"It's everywhere and the statistics were staggering so we chose to feed the hungry," Rotarian Sheryl Silver said.
60 Rotary Clubs across 2 counties have launched an all out assault on hunger--vowing to bring one million meals to those in need by the end of the month
--Rotarian Sheryl Silver is working tirelessly to reach their goal.
"Here in the coachella valley almost 47 percent of kids, the elderly and working poor go hungry," Silver said.
One million meals certainly aren't cheap --silver says it would take 125,000 dollars to buy all that food--so the rotary clubs and find food bank are counting on public donations.
Rotary food collection boxes have been set up at the following locations:
-- Albertson's, 74-590 Highway 111, Palm Desert
-- Albertson's, 42-095 Washington Street, Palm Desert
-- Albertson's, 1751 N. Sunrise Way, Palm Springs
-- Albertson's, 40101 Monterey Avenue, Rancho Mirage
-- Cathedral City Hall, 68-700 Avenida Lalo Guerrero, Cathedral City
-- Cathedral City High School, 69-250 Dinah Shore Drive, Cathedral City
-- Imax Theater, 68-510 E. Palm Canyon Drive, Cathedral City
-- Katherine Finch Elementary School, 777 E. Tachevah Drive, Palm Springs
-- Mary Pickford Theater, 36-850 Pickfair Street, Cathedral City
-- Ralph's, 42-150 Washington Street, Bermuda Dunes
-- Rick's Restaurant, 1973 North Palm Canyon Dr., Palm Springs
-- Rick's Desert Grill, 1596 North Palm Canyon Dr., Palm Springs
-- George Settler's State Farm Office, 31-855 Date Palm Drive, Suite 6, Cathedral City
--Adrianna Weingold
aweingold@kmir6.com