Teen in Coma, Hit and Run Driver at Large
Angela Monroe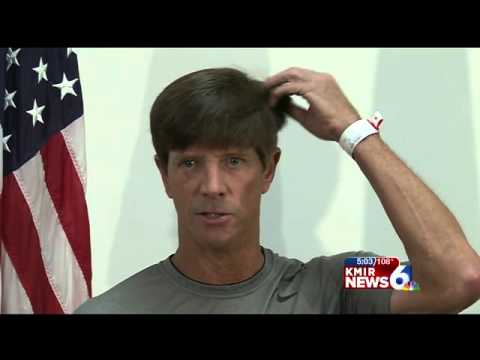 video
Photo: Video by kmir6.com
CREATED Sep. 14, 2012
A Palm Desert teenager remains in a coma after a driver hit him with her car, and then drove away.
16-year-old Grant Virgin is fighting for his life at Harbor Hospital in LA.
He is suffering from very serious, traumatic injuries and remains in a coma.
His father and police are asking for information to find the driver that hit Grant.

Grant's father, John Virgin, has a message for the driver who hit his son and then drove away.
"You changed a young man's life, if not ended it, and everyone he came in contact with."
On Monday, 7:30 at night, a car hit Grant as he walked along Deep Canyon Drive, north of Fred Waring.
Grant's father and brother drove by minutes later, and worried when they saw the police cars because they knew Grant was walking to a friend's house.
"I described my son, he's 6 feet tall, 195 pounds, same hair color I do, and the EMT said shaggy, and he looks like, and pointed at my other son," said John.
The Riverside County Sheriff's Department says the suspect is a Hispanic woman, about 30 years old, 5'6", 150 pounds, with black shoulder length hair.
The car is white, early-2000's compact car that should have front-end damage to hood, grill and possibly headlights and undercarriage
"From witnesses who saw the driver pull over, stop, get out of her vehicle, look at the front of her vehicle, look back towards the roadway where Grant was laying in the roadway and then re-enter her vehicle and flee the scene," said Captain Kevin Vest with the Riverside County Sheriff's Department.
"JJ, Grant's mother has no idea how a woman could hit a young man and leave him lying in the street," said John Virgin.
The 16-year-old is a Palm Desert High School student, Grant is described by his dad as a big strong happy young man with many friends and a girlfriend.
"When we are talking about prognosis, death is one of them. So every single day, is going to require more miracles and more miracles and more miracles, before we can bring him home," said John.
John says you can help their family with prayers, and any information on who left Grant in a coma.
Police also believe the suspect lives or works locally.
If you have any information about this hit and run and the suspect, call the Sheriff's Department at 760-836-1729.