East Valley Residents Face State of Emergency
Jessica Flores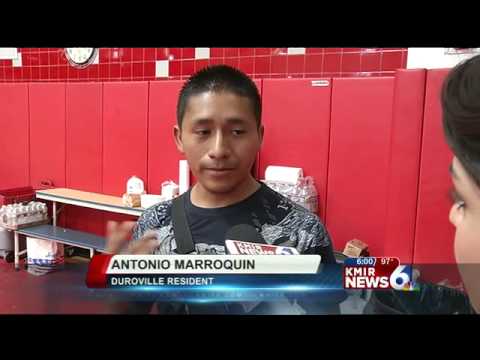 video
Photo: Video by kmir6.com
CREATED Sep. 12, 2012
MECCA- Unlivable conditions left in the floods aftermath are forcing hundreds of residents to seek refuge at a shelter and prompting Riverside County to declare a local state of emergency.
Two feet of water went rushing into Duroville Mobile home park, a Thermal community of nearly 1,000 people already suffering some of the worst living conditions in Riverside County. As if muck and leaky roofs weren't enough, the rain flooded a nearby sewage pond potentially contaminating the park's water supply. Resident's can't shower, cook or drink the water.
"Most people didn't know--not even us--that the water was contaminated, so a lot people used that water," said Antonio Marroquin, a resident of Duroville.
At least a dozen government agencies addressed the community, assuring residents that bottled water will continue to be supplied to the park. Meanwhile the Enviornmental Protection Agency is running tests on the water supply to make sure it is not toxic before letting residents use the water.
"Right now we are trying to take care of people that have immediate needs, trying to stop people from doing dangerous activities and trying to restore that community to normalcy," said John Hawkins, Cal Fire Riverside County Fire Chief.
About thirty people have slept at the shelter at Desert Mirage High School, and workers expect even more people as residents learn their water is unusable.
Jessica Flores, KMIR6 News.