Local Reaction to iPhone 5 Unveil
Angela Monroe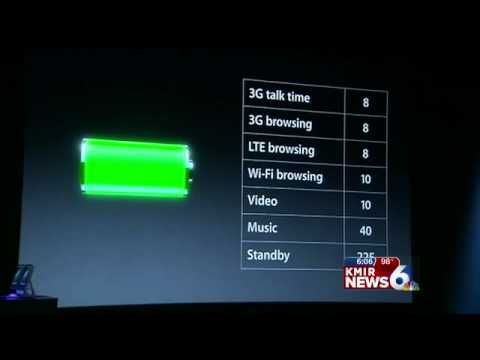 video
Photo: Video by kmir6.com
CREATED Sep. 12, 2012
There is a loud new ring-tone in the world of smartphones Wednesday as Apple unveiled the new iPhone.
And it comes with a laundry list of new high-tech additions.

The iPhone 5 made its debut, and already some people can't wait to get their hands on it.
"I thought I will just I will come over here and put my name on here to see if I can get it, because I have to get it," said Palm Springs resident, Kevin Thomas.
Thomas went to the El Paseo Apple store to try to pre-order the 5 -- staying on top of trending technology is important to him.
"I teach internet marketing and I do video marketing, so I have to keep up, I love their new I-movies, the app for the iPad," said Thomas.
And that's the response Apple is hoping for.
"It's the most beautiful product we've ever made," said Apple Senior VP of Worldwide Marketing, Phil Schiller at the unveiling in San Francisco on Wednesday.
Apple says the 5 is the most powerful, advanced smartphone ever made.
"It is really easy to make a new product that's bigger, everyone does that, that's not the challenge, the challenge is to make it better and smaller," said Schiller.
The company says the 5 will operate at double the speed of the 4 and 4S.
"I just got the iPhone 4," said Rancho Mirage resident, Barry Maloney.
We asked if he was disappointed now knowing that the 5 is coming out.
Maloney said, "No, no, because for what the phones do, it's more than I really need to get done."
The 5 has a longer-lasting battery, three microphones.. and a better 8 megapixel camera..
"The marketing they've done is impeccable, it's incredible, and I think people want to buy them because they are cool," said Sandra, an Indian Wells resident.
But Sandra doesn't get caught up in the hype, and prefers her flip phone.
"I know how to use an iPhone, I had one, turned it back in and got my flip phone again because I find it's much more efficient for me to use," said Sandra.
The smart phone market is very competitive now.
Google's Android is now the most-used mobile operating system in the world, and Samsung has grabbed the lead in sales.
Apple is looking for big sales for their big unveil.
"iPhone5 sounds awesome, I wish I could get one but it's not in my budget right now, eventually I'm going to get one," said Palm Desert resident, Donna Evans.
And people can get their fingers on the 5 soon -- pre-orders start Friday.
In store purchases will start on September 21st.
And already there are estimates Apple could sell more than 10,000 iPhone 5 by the end of the month.