Abandoned Rafts Found in Whitewater, Search Called Off
Angela Monroe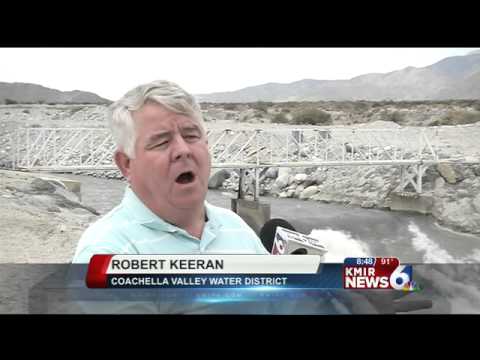 video
Photo: Video by kmir6.com
CREATED Sep. 5, 2012
The search is off Wednesday night after Palm Springs Police found two abandoned rafts in the Whitewater River.
There are no reports of missing people.
Police say this search turned out to be a false alarm, but in the past it hasn't been, and the results have been tragic.
"About a year ago we had a similar incident where we did lose somebody through an accident, and they were located in the same area where I found that raft," said Officer Salomon with Palm Springs Police.
Police found two abandoned rafts in the Coachella Valley Water District's collection ponds.
"This is an area where there are no trespassing signs all along the banks of the river, for a reason, because it is so dangerous," said Robert Keeran with the Coachella Valley Water District.
The first abandoned raft was found before 10am Wednesday, Search and Rescue came out and using off-road vehicles and a certain point a helicopter scoured the area.
The Whitewater River runs through the valley all the way down to the Salton Sea.
The water moves very swiftly as the elevation drops.
"From Interstate 10, to Indian Avenue, the drop on the Whitewater is greater than the drop on the Mississippi River from Davenport Iowa down to New Orleans," said Keeran.
Another element that makes the river so dangerous is sand and rock.
"It's very easy to change course, so when you have a river like this, you can never know from one day to the next what the current is going to be like and it's just very dangerous," said Keeran.
It is also trespassing.
Police stress that the rapids and rising water levels are deadly.
"So if somebody was in here, they'd have no warning that the water is coming behind them, and if they weren't paying attention, they could get swept away easily get knocked out by hitting their head on a rock or being injured," said Officer Salomon.
So trying to raft these rapid waters can take a quick turn for the worst.