Brush Fire Closes Mecca Roadway
George Severson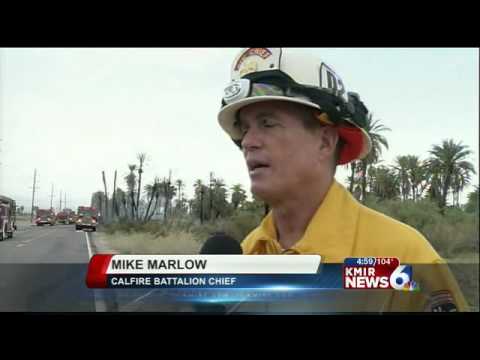 video
Photo: Video by kmir6.com
CREATED Sep. 4, 2012
MECCA - Firefighters suspect lightning ignited a fast burning brush fire in Mecca Tuesday afternoon which shutdown a section of 66th Avenue.
The fire spread to a small group of palm trees at 66th Avenue and Lincoln Street, according to Riverside County Fire. The blaze started just before 2:30 p.m.
A section of 66th Avenue was closed as dozens of firefighters responded to the blaze. the roadway was closed between highways
A CHP dispatcher reported palm trees burning west of Lincoln, and Avenue
66 was closed between SR 86 South and Highway 111.
At least one firefighter received minor injuries battling the blaze and was taken to a nearby hospital for treatment, according to Cal Fire's online incident report.