Gas Prices Fuel Increased Food Costs
Angela Monroe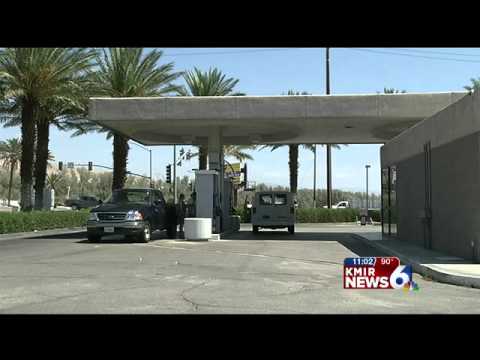 video
Photo: Video by kmir6.com
CREATED Sep. 3, 2012
The record-setting Labor Day gas prices in Riverside County are impacting your daily commute, and trips out of town.
But how else do high gas prices lighten your wallet?
When gas prices rise at the pump, they also rise across many other areas of your life.
And one of the first places you'll see increased costs is on your grocery bill.

Palm desert resident, Chris Schultz is grocery shopping for a family of five.
"We shop all the time and in the past weeks, food prices have actually gone up."
And what does he feel is to blame for inflated food prices?
"The rise of gas prices and commodities go up with gas prices, everything," said Schultz.
It can take just a week or two to see increased prices at the pump translate to a bigger bill in the grocery store says local economist, Kevin Cochrane.
"Because they have a very short supply chain from the farm to the market so the increased costs of fuel to farmers running tractors and also fertilizer has some petroleum products, and petroleum is used in the application of fertilizers and then of course the shipping of the produce to the markets," said Cochrane, Professor of Economics at College of the Desert.
Anything that is shipped will eventually have increased costs.
And another product that you use every day goes up with gas prices -- plastics.
"And if you think about things that are made out of plastic, plastic is manufactured from petrochemicals, now that has a much longer supply chain so it takes several months before you see increases in oil convert into increases of things that have plastic parts," said Cochrane.
Cochrane says several factors could push up prices at the pump, including a disruption in oil supplies due to Hurricane Isaac and the downed Chevron Refinery in Richmond.
"If they can't get that back online rather rapidly, and they've been struggling for the last couple of weeks, we'll see maybe a 25 cent to 30 cent increase in gasoline over the next several months," said Cochrane.
So with rising costs of gas and food, Schultz is finding ways to save money including using his grocery store discount card.
"It gives us discounts on our gas prices too, which we save up to ninety cents a gallon," said Schultz.
So people are finding ways to save as gas prices inch up along with the cost of food.
Local economist Kevin Cochrane says while increased gas prices quickly raise the prices of food, it can take six to nine months before we see that translate into higher plastic prices.