Flood Aftermath in Cathedral City
Adrianna Weingold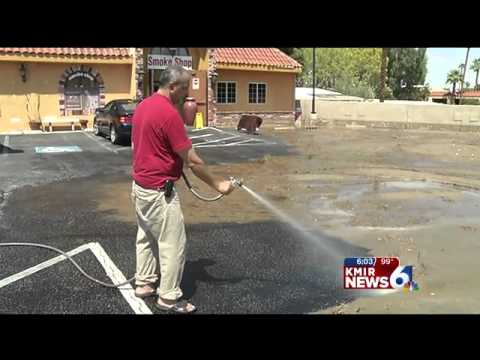 video
Photo: Video by kmir6.com
CREATED Aug. 31, 2012
CATHEDRAL CITY--The community is cleaning up after rushing water tore through homes and businesses in Cathedral City Thursday afternoon.
"I saw it happening,"Carol Dean Ross, the owner of Resale Therapy said. "I literally said 'oh my god' what are we going to do? And by the fourth time I was standing ankle deep in water."
24 hours after the Eagle Canyon Damn broke sending a wall of water and mud careening through stores and homes in Cathedral City, the community is picking up the pieces. Ross says she's just happy no one was hurt, and she's working hard to open up shop.
"This is the third time this has happened and I've been down here a long time and this is the third time this has happened over the last 10 years," said Manny Crummet, a general contractor with C And J Construction.
"It's hard to walk around there's so much mud," said resident Bruce Bork.
Ahmad Hamdan watched the water rushing down Highway 111 and barricaded himself inside the 111 Smoke Shop, stuffing towels under the doors hoping to keep the mud out.
"It's amazing the water was coming almost 3 feet high," said Ahmad Hamdan who manages the 111 Smoke Shop.
His plan worked. Water but no mud came inside his store.
At the hard hit Tramview Mobile home park, cars sit buried in debris.
"I've seen a lot of flash floods but this one could have been prevented because they knew what happened 4 years ago, the same thing," said resident John Wiesneth.
Residents are still questioning - Why the levee broke? And who should pay for the damage.
-Adrianna Weingold
aweingold@kmir6.com