Copper Thieves Target Air Conditioners
Adrianna Weingold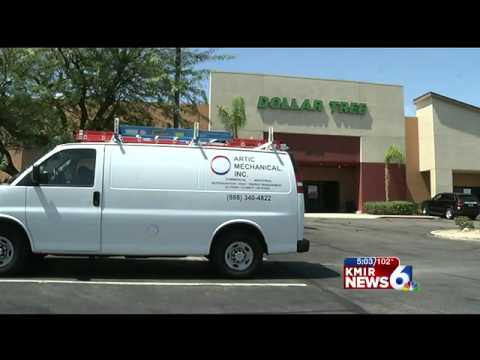 video
Photo: Video by kmir6.com
CREATED Aug. 29, 2012
INDIO--Businesses from Indio to Palm Desert are being targeted by copper thieves and it's affecting more than just the businesses bottom line.
In the dead of summer, copper piping is being taken from the worst possible place--air conditioning units.
"Today we're open on a very limited basis," said Rob Carson, Communications Coordinator for the Desert Recreation District. "We are telling people that it is extremely hot in here because of the a/c being out. but yesterday afternoon we did close down because it was so hot.
The Indio Community Center is one of the buildings hit recently. Thieves climbed to the roof and attempted to take copper from the industrial air conditioning units. They didn't get the pipes, but did manage to break the air conditioning. Leaving patrons to sweat it out at their own risk.
"Oh my gosh, it was hot," said Kennya Madrigal who worked out at the gym despite the lack of air conditioning. "In a way it was OK because you sweat more and stuff, but it was a little frustrating and kind of hard to breathe."
There are security cameras scattered across the roof at the community center but the thieves managed to somehow avoid them.
At the Dollar Tree in Palm Desert, the parking lot was nearly empty Wednesday. The store was too hot to shop for many customers. Vandals dodged surveillance cameras once again, stealing copper from rooftop air conditioners, causing upwards of $70,000 dollars in damages. Police in both cities searching for the thieves
"These people find their way up to the roof top and they're very creative and so we evaluated the facility and made some recommendations to Desert Recreation District to probably try to deter people having the ability to climb the roof and that's what they're in the process of doing," said Indio Police Department Spokesperson, Ben Guitron.
Copper theft now a costly crime for the community in Indio. The $11,000 dollars needed to fix the air conditioners at the rec center will come right out of the tax payers pockets.
--Adrianna Weingold
aweingold@kmir6.com