Save-A-Pet Vandalized, Dog Trapped Under Wheelbarrow
Angela Monroe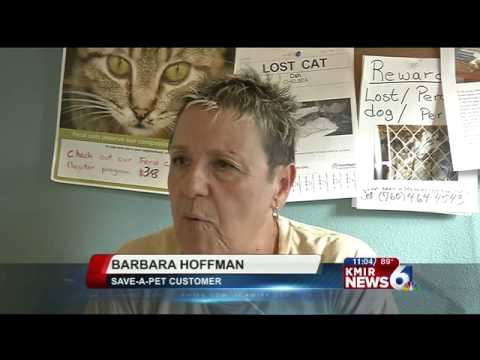 video
Photo: Video by kmir6.com
CREATED Aug. 28, 2012
DESERT HOT SPRINGS - Vandals are targeting a no-kill animal shelter in Desert Hot Springs.
In the past month they have caused about 20,000 dollars in damage.
People at Save-A-Pet are still cleaning up after the last vandalism strike on the shelter Monday night.
They desperately want someone to come forward with information on who is attacking their facility.

Lucy is a special needs dog with hip and knee problems.
Monday night someone trapped her under a wheelbarrow.
"They're actually attacking the animals, my babies," said Save-A-Pet kennel manager, Stacey Lawler.
Vandals also broke the pipes that supply water to the pets, threw cement and paint on office doors and released dogs from kennels.
Earlier in the month we reported on the thousands of dollars of dog food stolen.
"I was shocked, I can't believe it, why would anybody be so cruel to do this, and to this wonderful place like," said Save-A-Pet customer, Barbara Hoffman.
Palm Springs resident, Barbara Hoffman, takes her cat to the Save-A-Pet vet.
She is especially horrified by what happened to Lucy.
"Trapping a dog under a wheelbarrow, I think that's terrible, I mean its a good thing they didn't kill the dog, but imagine how frightened that dog must have been," said Hoffman.
And the increasing vandalism has kennel manager Stacy Lawler asking what's next.
"Lucy was lucky, she wasn't under the wheelbarrow for a whole long time, but what next, what next?"
The shelter is working to enhance security.
"We are trying so hard to upgrade our security systems, but we are spending so much time, fixing everything, every time they come in here," said Lawler.
Lawler has no idea why someone would do this, but hopes someone comes forward.
"Ultimately these animals lives, they depend on you to come forward and do the right thing, sign the complaint at the sheriff's department, please lets make this stop before an animal really gets hurt," said Lawler.
Save-A-Pet hopes for answers so Lucy and the other dogs have a safe place to stay.
The Riverside County Sheriff's Department is handling the case.
If you have any information you are asked to call them.