Increased Efforts to Fight West Nile Virus in the Valley
Angela Monroe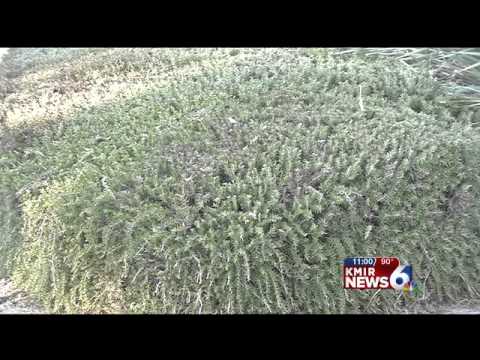 video
Photo: Video by kmir6.com
CREATED Aug. 21, 2012
Efforts are amping up here in the Coachella Valley to fight mosquitoes spreading West Nile Virus.
Fresno County reported Tuesday that an elderly woman died of West Nile Virus, the second related death in California.
Nationwide, the Center for Disease Control last reported 26 deaths.

No human cases yet in the Coachella Valley, but many mosquito samples tested positive in Mecca, Indio and Rancho Mirage.
One positive sample was taken around Highway 111 and Magnesia Falls Drive, near the Richmond's home.
"It's a bit scary," said Rancho Mirage resident, Carl Richmond.
"I was surprised, but fortunately mosquitoes don't like me, so that's a really good, now my husband, that's another thing," said Cathy Richmond.
The Coachella Valley Mosquito and Vector Control District is working hard to fight the threat, applying barrier applications to vegetation in Rancho Mirage and spraying in Mecca and Indio.
Hikers at the Bump and Grind Trail were surprised to hear a West Nile Virus positive sample was found nearby.
"I mean I do worry about it, we have, there was that case a long time ago of the West Nile Virus, I don't know too much about it, but I know it's pretty dangerous," said Indio resident, Frank Sanchez.
About 80 percent of people infected with West Nile Virus have no symptoms.
But the CDC says one of every 150 will develop serious symptoms, including high fever, vision loss, numbness, paralysis and coma.
"People need to be cautious about it, and watch out for any standing water, or things like that, or maybe wear repellent, which I don't do, but I think I am going to start doing that," said Desert Hot Springs resident, Sandra Cory.
Vector Control says there is a higher than average number of West Nile Virus samples this year.
"I am concerned about that, because it's not a light thing, you need to take precautions," said Carl Richmond.
And the Richmonds do plan to take precautions.
"Just keep our doors closed which they are most of the time because of the heat because of the heat, so that helps, stay away from any stagnant water," said the Richmonds.
To protect yourself -- beware of stagnant water, wear insect repellent, and limit your time outside especially during dawn and dusk.
The Center for Disease Control says the nearly 700 cases of West Nile Virus reported is the highest since the virus was first detected in 1999.
43 states have reported West Nile Virus. Texas has been hit especially hard, with 14 deaths.