Buck Fire Injures People, Destroys Structures
Angela Monroe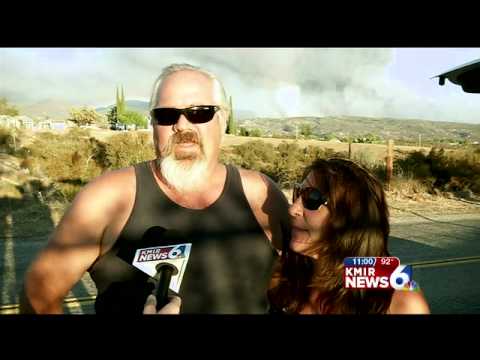 video
Photo: Video by kmir6.com
CREATED Aug. 14, 2012
UPDATE: The Buck Fire is now 3,000 acres, still only 5% contained. A total of 32 of 47 homes were evacuated.
Calfire website says one person will be taken to hospital for serious burns. Two firefighters had minor injuries.

A wildfire burning in the mountains above the Coachella Valley continues to grow.
The fire, which is being called the Buck Fire, is burning in Aguanga, which is near the Riverside and San Diego county border, up Highway 74.
Two firefighters were taken to the hospital with minor injuries, and the fast-moving fire destroyed four structures.
A DC10 fire tanker trys to halt the fast moving Buck Fire as flames quickly devour more and more acres.
Four structures destroyed, at least one of them a home.
"We just watched it burn on TV and were the hot spot is, it looks like an area that we've known for a few years," said Greg and Becky Slunaker of Hemet.
Greg and Becky live a couple miles away, but are still keeping a close eye on the blaze.
"We've got a lot of oaks on our property and fires definitely a concern, if the wind changes and comes down towards us, yeah it's a bad thing."
The billowing plume of smoke is visible from many miles away.
Over 200 firefighters and a dozen aircraft are fighting to save the rest.
"Structure protection and life safety a priority, we have quite a few air resources on this incident as well as dozers," said Gina McGough with the Riverside County Fire Department Office of Emergency Services.
What started the fire is under investigation.
The Buck Fire quickly grew from about ten acres.
"It has been a very a rapid fire, they are technically saying its medium to rapid rate of spread," said McGough.
And Temecula residents, Katie and Kelly are watching the fire with fear, unsure whether to evacuate their horses.
"Very worried because horses get scared easily by fires. They'll run."
The fire is between Hemet and Temecula, and residents of both areas worry if the fire will spread.
"I mean a couple years ago were those big fires but that was pretty much it, so this worries us a lot as Temecula residents. Yeah, that it could come our way," said Katie and Kelly.
So fire crews on ground and in the air are fiercely fighting the fire to stop its forward burning march.
People evacuated from the homes can go to a shelter set up at the Temecula Community Recreation Center.
Some animals have also been evacuated from the area.