BMX Cycling at Olympics, Here at Home
Angela Monroe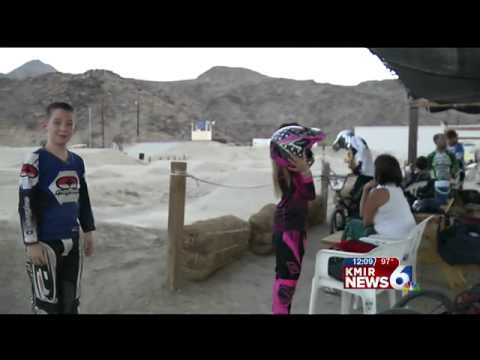 video
Photo: Video by kmir6.com
CREATED Aug. 11, 2012
CATHEDRAL CITY - BMX cycling is now in its second Olympic Games, and it got it's start right here in Southern California.
Friday was the finals for BMX cycling in the Olympics.
The sport has been around for decades, but this is just its second time in the Games.
Here in the valley, local riders raced across the dirt track Friday night.

BMX racer Daniel Dyson soars through the air, speeding his bike around the dirt track.
He says BMX is now where it needs to be, the Olympics.
"Almost no one knowing about it to being in the Olympics and I have aspirations of going to the Olympics at '16, but I try to get as much time on the track and the gym as I can to try to prepare for it, and basically I just need to keep a straight head and keep going," said Dyson, a Palm Desert resident.
BMX racing got its start here in Southern California.
"Everybody that trained for the Olympics and rode for the Olympics pretty much all train and live in Southern California pretty much all year round, so regardless who wins the medal, it's always part of the US," said Cathedral City resident, and former pro-racer Raymond Holmes.
Holmes started racing in the 70's and raced pro for years, now both his children have aspirations for the 2016 Olympics.
"My kids compete, my daughter is 18, she competes in junior elite women, UCI Supercross and USA BMX, my other son is 23, he competes as an A-pro," said Holmes.
Both young and older come out to Palm Springs BMX to race in Cathedral City.
"It feels like you are free, like nothing can stop you. I've been riding bikes almost all my life, and it feels good," said 10-year-old BMX racer, Brandon from Desert Hot Springs.
BMX racing requires a lot of speed, athleticism and focus.
"I'm focusing out there for whose going to get to the finish line first, and just pedal your butt off," said BMX racer Tyler Lutzke of Palm Desert.
BMX racing in the desert is giving many young athletes a reason to go for gold.
"And it's just pretty much a way to express myself, a style. And it being in the Olympics, I honestly never thought it would be, I thought it was and X-Games sport, but it's cool that its in Olympics, definitely want to be there one day," said BMX racer Chad Harper of Indian Wells.
Gripping the handles, poised on the pedals, these BMX racers are ready to race when the gate goes down.