Final Defendant Speaks in Clifford Lambert Murder Trial
Adrianna Weingold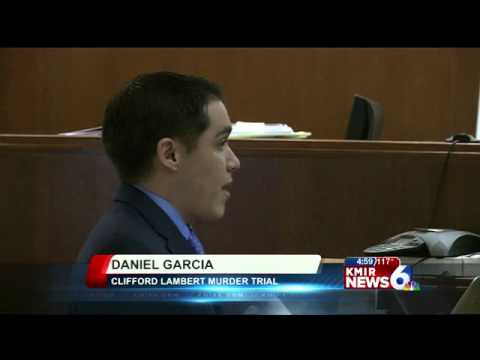 video
Photo: Video by kmir6.com
CREATED Aug. 8, 2012
INDIO--It's a case we've been following for years. The trial of 4 men accused of the financially motivated slaying of Palm Springs retiree, Clifford Lambert.
The final defendant, Daniel Garcia, served as his own attorney and gave his opening statements Wednesday morning.
The body of Clifford Lambert has never been found. Four men were accused of plotting his murder then stealing his life--2 of those men were convicted of first degree murder and 8 other counts involving Lambert's disapperance. Now, on Wednesday, the final defendant had his first chance to speak directly to the jury.
A seemingly nervous Daniel Garcia apologized to jurors for what he calls being a bad public speaker before starting his opening statements, hoping to set himself apart, and get out of jail. Daniel Garcia stands accused of plotting to kill Clifford Lambert for financial gain.
"You've heard some rather colorful metaphors referring to me as a vulture or saying this is something out of a hollywood script or the mind of Martin Scorsese. Well I don't know if that's supposed to make me the gay god father or what? But you will see a very different version of me then what's been portrayed," Garcia said.
Garcia represented himself in the courtroom and laid the foundation for a defense that paints a very different picture of his involvement with Lambert.
"He will lay the foundation for documents that law enforcement over looked, emails, chat logs, other documents that will point toward my innocence," Garcia said.
Garcia says one of the other men accused in Lambert's murder, Kaushal Niroula, is seeking revenge after Garcia testified against Niroula in a seperate case.
"One thing is true. That i'm innocent. You heard him say that this whole case as it pertains to me is revenge on me," Garcia said.
Garcia already started calling witnesses Wednesday afternoon and says he hopes to be finished presenting his defense by the end of August.
--Adrianna Weingold
aweingold@kmir6.com