New Details About Teacher Accused of Lewd Acts
Angela Monroe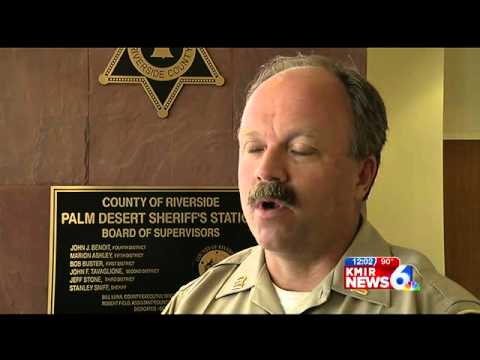 video
Photo: Video by kmir6.com
CREATED Aug. 7, 2012
New details about a fourth grade teacher arrested for lewd acts with a minor, and what investigators say they found on his computer.
The search warrant says suggestive photographs were found on 59-year-old Robert Bryan's work computer.
It also says Bryan was suspended for several weeks in 1994 because of inappropriate behavior.

Robert Bryan is a fourth grade teacher at Gerald Ford Elementary.
After a student talked to police, they talked to seven potential victims, and searched his work computer.
"We found a high ratio of photographs of female students in comparison to male students, there were also some other, a couple other photographs that were rather suggestive," said Captain Kevin Vest with the Riverside County Sheriff's Department.
The search warrant also says there was a downloaded image of a topless juvenile girl.
School officials told officers Bryan was suspended for two weeks in 1994 because of inappropriate behavior, they listed three incidents.
The warrant says in 1992 he was detained--but never charged--for sexual molestation.
Bryan's attorney says people should not jump to conclusions.
"If you are not prosecuted for a crime, that means something, it means that the police did not think they even had enough evidence to arrest, my client has never been convicted of any crime his entire life," said Attorney Paul Wallin, Esq. of Wallin and Klarich Law Corporation.
Wallin also says many parents and volunteers in the classroom have called expressing their support.
"One mother called me today in tears about the fact that Mr. Bryan could even be accused of such a thing because he's the most caring, considerate teacher she has ever seen in her entire life," said Wallin.
Bryan has not yet been charged, but Captain Kevin Vest believes he will be.
"Yes I do, its up to the district attorney as far as reviewing the case, sometimes they return it requesting additional information, probably want the results of the forensic exam on the computer at this point in time and the conclusion of all the other interviews as far as the people who have come forward from the public," said Captain Vest.
Bryan's attorney says his law firm has represented scores of teachers who were falsely accused, and whose lives were ruined.
"If someone was accused of such a serious crime, and they were a member of your family and you believed completely in their innocence, you would want the public to presume them innocent," said Wallin.
The sheriff's department has advice for parents.
"Have an open line of communication with your children, if they express feelings of uneasiness or anxiety, you need to talk to them about that, and try to find out what the cause of that is, and if necessary report that to law enforcement," said Captain Vest.
It will take some time for investigators to go through the contents of Bryan's home computer.
The sheriff's department says they have received many calls from the community, and the investigation is ongoing.