Re-enactment Video Sheds Light on Local Cold Case
Angela Monroe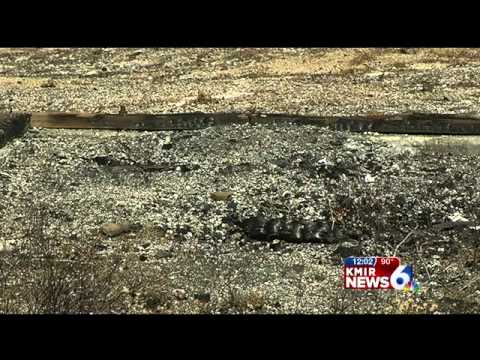 video
Photo: Video by kmir6.com
CREATED Aug. 6, 2012
A triple homicide in the Coachella Valley is now a cold case, but not in the hearts of those that lost their loved ones.
An 18-year-old girl's body found burned in a wheelbarrow, and in the house the charred remains of her mother and her mother's boyfriend.
Next month it will be six years since this horrible crime, and still no arrests, no answers.
A private investigation team wants to solve this murder mystery.

Drew Friedli can still see her sister's lovely smile in her mind.
18-year old Becky, a College of the Desert student, had a magnetic personality and could make anyone laugh.
"My little sister was a beautiful person, she could light up the entire room with that smile," said Drew.
But Becky's life was violently taken, along with her mother Vicky, and her mother's boyfriend, John Hayward.
"Our mother and John were brutally murdered in their bedroom, and childhood home was set ablaze, if that wasn't enough, our poor sister suffered the worst of it, and was set on fire in a wheelbarrow after being caught while running away," said Tanya Friedli.
It happened September 17th, 2006 just before 10 at night in Pinyon Pines, a mountain community above the city of Palm Desert.
The family killed, the home burned down -- a calculated and pre-meditated triple murder.
"I still believe this is a horrible nightmare, and I will wake up from it at any moment," said Tanya.
Becky's sisters, Tanya and Drew, had to wait a year before their loved one's bodies were positively identified.
"Day after day turned to month after month, with nothing. No answers, no suspects, no arrests," said Tanya.
Nearly six years later, just a charred foundation remains of the family home.
But now a team of private investigators is sifting through the ashes to find the truth of that night.
Ten retired law enforcement officers from the Riverside Sheriff's and DA's departments, Palm Springs Police and FBI -- the Bolanos Investigations Team.
"We are in this strictly as volunteers, we have taken on this investigation because this is our community and we honestly believe that this case can be solved," said Luis Bolanos, lead investigator of Bolanos Investigations Team.
So to try to reinvigorate this cold case, investigators created a re-enactment to shine light on that dark night.
"We believe that Becky may have walked into a situation inside her residence that she immediately recognized that her life was in clear danger," said Bolanos.
Private investigators say Becky then ran out the door, fleeing into the dark trying to survive.
But the suspects caught her.
Investigators don't know if she was already dead or unconscious when the suspects put her in a wheelbarrow.
"And wheeled her back to the front driveway area. Once the suspects had posed Becky's body in the wheelbarrow they poured accelerant all over Becky's body as she lay in the wheelbarrow. The suspects then ignited the accelerant, which then engulfed Becky in flames," said Bolanos.
A gruesome end, made even more sickening by the suspects posing her body in the wheelbarrow.
"The suspect or suspects may arrange or pose or degrade a body after death, and that's for their own gratification and fantasies, and posing is also done to shock the first responders and the public, and posing is very rare, and is found in less than one percent of all homicide cases," said Greg Miller, investigator with Bolanos Investigations Team.
The private investigators say the suspects, they believe there are at least two, were known by Becky and or her family.
"Numerous other individuals were asked to participate in polygraph examinations, although each of these individuals initially agreed to take the polygraph examination, each of them changed their mind," said Miller.
That change of heart to take the truth test is suspicious to them.
"Based on our profession, we look at that and we consider that to be a flag in the case," said Miller.
Lamar Advertising is donating a billboard to help.
It will be somewhere in the Palm Desert area in about a week.
It shows the possible reward of 50,000 dollars and a hotline set up for answers. 855-44 BECKY.
"Someone out there knows something, you may not know how important it is, be afraid to come forward, or you may have even been turned away or discredited by sheriff's office already, we are asking for your help," said Tanya.
Tanya and Drew hope people will give them answers.
"Part of all of us was buried with them, and I think that for our sanity, I would hope so much that somebody came forward," said Drew.
Some closure, for the family they loved so much.
"Perhaps they are not stars, but openings in heaven where the love of our lost ones pours through and shines down upon us, to let us know that they are happy," quoted Tanya.
Three lives brutally taken, and a hole left forever in their loved one's hearts.
"My mom and little sister were the most loving, caring people that I've ever met, and I just want people to remember, how beautiful their lives were," said Drew.
The sister's are also asking the Riverside County Board of Supervisors for 50,000 dollars to add to the reward which would then be 100,000 dollars.
And once again, if you know anything, call 855-44-BECKY.