Cross-Country "Ride for Heroes" to Benefit Injured Marines
George Severson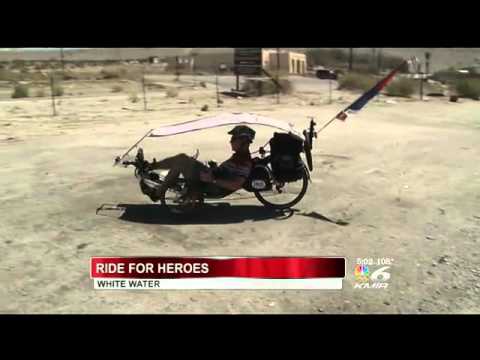 video
Photo: Video by kmir6.com
CREATED Aug. 2, 2012
TWENTYNINE PALMS - A team of four recumbent trike riders peddling from Florida to California this summer to raise money for, and awareness of, the Injured Marine Semper Fi Fund (www.semperfifund.org) traveled through the Coachella Valley Thursday.
The route passes through mostly small-town America, departing from St Augustine, Florida and traveling along the Gulf Coast, across the plains and deserts of Texas, New Mexico, Arizona, and California, and ending with an arrival celebration at Marine Base Camp Pendleton's Del Mar Beach on August 10th.
Since its inception in 2004, the nonprofit Injured Marine Semper Fi Fund has made over $62M in grants to thousands of injured and critically ill members of the U.S. armed forces and their families. They direct urgently needed resources to post 9-11 Marines and Sailors -- as well as members of the Army, Air Force and Coast Guard serving in support of Marine forces.
The Semper Fi Fund provides both immediate financial relief for needs arising during hospitalization, and continuing assistance for perpetuating needs throughout the full recovery process.
The ride team consists of two business owners, an assistant professor of National Security Studies at the National Defense University, and a recently medically retired Marine headed to college in the fall. They say they ride in support of the sacrifices young Americans make to this nation every day. They believe their efforts pale in comparison to the conditions today's service men and women endure, and they hope to motivate all Americans in overcoming whatever obstacles life presents.
You can follow the last leg of the trek at www.facebook.com/semperfi.rideforheroes.
Donation site: www.rideforheroes.stayclassy.org.