Rain Floods Coachella Valley Roads
Angela Monroe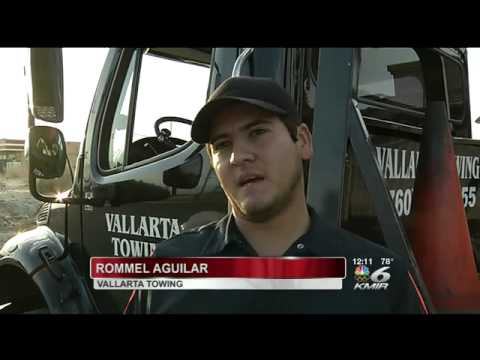 video
Photo: Video by kmir6.com
CREATED Aug. 1, 2012
The flood watch is over for the Coachella Valley.
But the sudden downpour did flood streets and close some roads.

The sudden onslaught of rain flooded some streets, leaving rivers of mud across roads in the Coachella Valley.
So warning signs saying "flooded" peppered some of the streets.
Clean-up crews are already scraping away at the deep mud and sand that settled across roads like Ramon in Thousand Palms.
When resident Jerry Duffle heard rain was coming, he got ready.
"I went to the store and I bought some groceries yesterday because its common that we get flooded in out here where I live in Thousand Palms," said Duffle.
About five years ago, rushing floodwaters stronger than these kept Duffle trapped at home for two days.
"We have two small flood channels, one up there, and one down here, and the water comes from the hills and it rushes down through here, and sometimes it gets really bad, it's like a river," said Duffle.
And those rivers of water made driving difficult.
Rommel Aguilar with Vallarta Towing has been busy towing vehicles all day.
"A lot of towing, most of them have been from slipping, a couple of the guys they got stuck and I had a couple of accidents today, it's been really good for us, bad for them and bad for the insurance," said Aguilar.
The downpour started a little before three in the afternoon, but it didn't take much time to flood the roads with water and debris.
"It was like flash flood conditions, and kinda scary there for a while, but it didn't last too long," said Palm Desert resident, Jeff Riddick.
The dirty mudwater made vehicles look like they had been off-roading, so some drivers like Riddick headed to the carwash.
"Just glad that the rain is over, and hopefully its over because I just washed my car and it's going to mess things up if it keeps going," said Riddick.
And now the desert is drying off, after the drenching downpour.