Power Go for Championship with Olympic Hitting Coach
Angela Monroe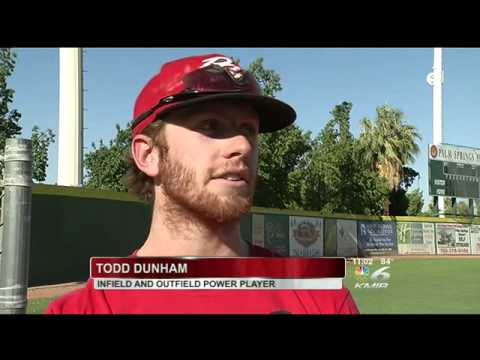 video
Photo: Video by kmir6.com
CREATED Jul. 24, 2012
PALM SPRINGS - The Palm Springs Power are trying to make history of the Long Beach Legends in their baseball championships.
The Power are ranked number one seed.
One of their coaches also made it to the top of the sport in the 2000 Olympics in Sydney.
The Palm Springs Power swing into action, and teaching them to step up to the plate is hitting coach, Danny DiPace.
DiPace competed for Team Italy in baseball for the 2000 Olympics in Sydney.
"It tugs at your heart, it's humbling, you are among the best of the best, and its a rewarding feeling, an honorable feeling to be part of something that's so big," said DiPace.
Baseball is not in the 2012 Olympics, but DiPace says the Palm Springs Power do have pro-prospects on the team.
One of those players hoping to go pro is Todd Dunham, who plays both infield and outfield for the Power..
"It's been a great experience, just getting to bond with all these guys, a lot of good players on our team, really raises yourself as a baseball player playing with this type of competition, these type of players, the coaches are great and I've loved like every game of it so far."
Closing Power pitcher, Edgar Gomez, started playing baseball here in the valley.
"I graduated from Indio High School in 2011 and since then I've been playing baseball Long Beach state and this summer I'm playing for the Palm Springs Power for my first year and it's been a great summer," said Gomez.
The Power are playing to win the championship again, and their hitting coach says that is the same competitive drive that fuels Olympians.
"It's the same thing, an athlete is dedicated to his craft and he makes sure that is number one in his life or her life, but then again it's the same competitive nature, desire and focus, same thing," said DiPace.
So the Power swing into action, proving though baseball is no longer an Olympic sport, it requires Herculean effort.
And the Power took out the Legends Tuesday night, eight to zero.
The next game in the series is Wednesday night at Palm Springs Stadium, first pitch at 7:05PM.