War Dogs Reunited With Handlers
Adrianna Weingold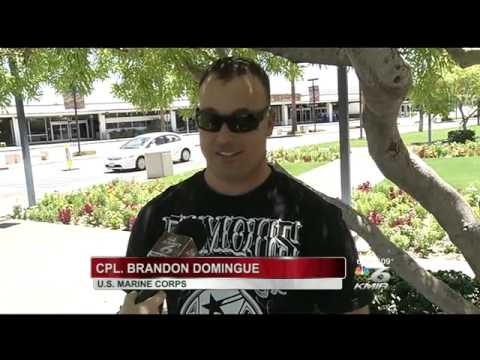 video
Photo: Video by kmir6.com
CREATED Jul. 24, 2012
PALM SPRINGS--Marines home safely from Afghanistan, but they're forced to give up the dogs that fought right along side them.
Now, two marines here in Palm Springs are finally reunited with their war buddies.
The now retired labrador marines are trained bomb sniffing dogs-- each deployed more than half a dozen times in Afganistan and Iraq. Now, a new chapter in their lives as they're reunited with their handlers.
As they touched down at the Palm Springs aiport, Clay and Mocha could hardly wait to get out of their kennels and give their marines a hug and a kiss.
"Oh man I can't even explain it," Sgt. Zakery Noland said. "I'm like shaky it's surreal having my little war buddy come home and be my pet forever. It's awesome."
Sergeant Zakery Noland and Corporal Brandon Domingue were forced to give up their canine partners when they returned from Afganistan. The dogs were sent back to training camp in Virginia, but Zak and Brandon fought to adopt them, raising thousands of dollars to fly the pups all the way home to the desert.
"It's unbeliveable," Cpl. Brandon Domingue said. "We've been dreaming about this ever since we got home two months ago and it's finally a reality."
"This dog has saved my life and many marines lives countless times so it's amazing," Sgt. Noland said.
Staff Sergeant Clayton and Sergeant Mocha are one rank higher than their handlers and seem to get the royal treatment--but these dogs are highly specialized. Trained to sniff out IED's and materials used to make bombs.
"With clay, he's just so good at what he does I mean I have full faith that he's not going to let me get hurt," Sgt. Noland said.
"You're away from friends and family for so long and then you have your little war buddy with you and she's there the whole time right by your side 24/7 so it's pretty awesome," Cpl. Domingue said.
Now it's time for their final deployment. Back with the marines who fought to bring them home.
--Adrianna Weingold
aweingold@kmir6.com