KMIR6 Investigates Pothole Problem
Jessica Flores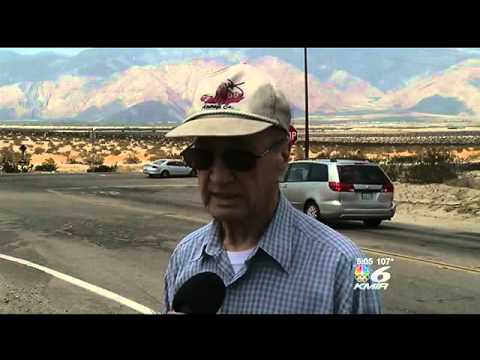 video
Photo: Video by kmir6.com
CREATED Jul. 23, 2012
CATHEDRAL CITY- Most drivers likely ignore the bumpy road at the intersection of Varner and Mountain View in Cathedral City. But after six years of trying to avoid the potholes, Robert McFarlane has had enough.

He says he's called the county and the city, only to run into a dead end.

"I call it no man's land because the city is not involved, they don't want to be, and the county can't be because it's city property," said McFarlane.

McFarlane wanted someone to bring attention to the road condition, so he called KMIR6.

"It's taken this long, six years for me to finally come up and say something but it's thanks to the KMIR6 program, you are answering that problem," he said.

KMIR6 asked the city why it hasn't been fixed.

"Right now with our resources...you know we have three fairly large projects going on and this one will have to wait until the end of the summer and then we'll get to it. It's not our highest priority," said Pat Milos, Public Works manager for the city.

It turns out the Public Works department has faced its own set off hurdles. They are down from 30 to just 15 employees.
There are fewer people filling pot holes, but they admit this road needs at least a temporary fix.

"What we will do now is we'll go out and patch the potholes and that particular intersection is scheduled to have a more permanent repair in September or October," said Milos.

Jessica Flores, KMIR6 News.