Several Local Theaters Say No Masks, Costumes
Angela Monroe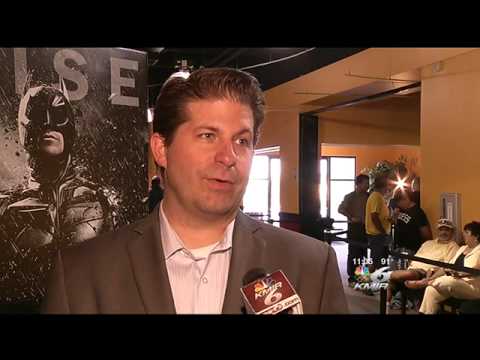 video
Photo: Video by kmir6.com
CREATED Jul. 20, 2012
CATHEDRAL CITY - Friday's horrific shooting in Colorado has local theaters changing their rules for moviegoers.
Mary Pickford Theatre and Desert IMAX in Cathedral City are asking their moviegoers to not wear masks or costumes.
If people do bring them, they will be asked to take them off.

The Colorado movie theatre tragedy is impacting people across the nation, and right here at home.
"We have an employee that has someone, that knew someone there that evening, thankfully they were not hurt," said the general manager of Mary Pickford Theatre and Desert IMAX, Ted Hane.
Now Desert IMAX and Mary Pickford Theatres have a new rule, no masks or costumes if you want to watch a movie.
"Last night for instance we had plenty of people who came and dressed as Bane and also Batman so, we would have had to turn them around, hopefully they come in time to where we can either ask them to remove it and or come back to a later show or something," said Hane.
People packed the theaters to see the Dark Knight Rises, but without costumes at IMAX.
"That's the same thing with Halloween, people wear masks and in the AMPMs you can't do it because you might get held up, so I understand that," said Desert Hot Springs resident, Eddie Adan.
"But if that's going to increase security I think that's a good idea," said Coachella Valley resident, Debra Sloan.
Her husband Sean Sloan said, "Even though we're married I disagree, I think people should be able to wear whatever, whenever they want, and that's what security's for."
The theatre's general manager says they don't believe there is a threat, but they're reviewing theatre security all the same.
"Safety is a big issue always, but we're readdressing it looking at some additional offerings, talking to the police department to see if there's some security measures that we could increase," said Hane.
We asked moviegoers if they wanted more security.
"I have mixed feelings, I think we've heightened security in this country a great deal, I'm not sure that we're that good at doing it effectively," said Connecticut resident, Joe Bender-Zinoni.
Even though many people flocked to see the film, Friday's tragic and terrifying massacre did give some pause.
"It did raise a concern, I mean it was a deplorable event in Colorado, but I think an isolated madman," said Bender-Zinoni.