Local Business Falls Victim to Phone Scam
Angela Monroe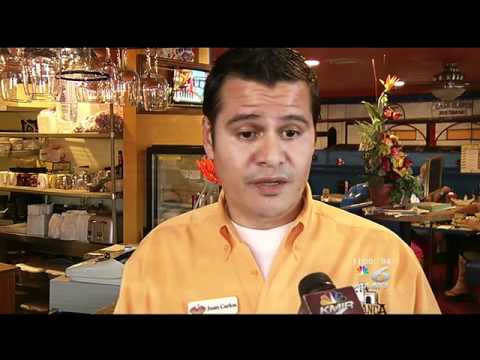 video
Photo: Video by kmir6.com
CREATED Jul. 10, 2012
We want to warn you about a scary phone scam.
At least one business owner in the valley has already become a victim of it.
The owner of two local restaurants is now out 1,600 dollars after a person called him pretending to be a Southern California Edison employee.
He wants to share his story, to warn other people and businesses.
Juan Carlos De Leon is the proud owner of two Casablanca Restaurants, one in Desert Hot Springs and one in Cathedral City.
But Friday morning, he got a call from a person who said they worked for SoCal Edison, and would shut down his power for a past due amount of 1,600 dollars.
"I got a little scared about the restaurant, Friday, imagine, they're going to close my doors, Friday, Saturday weekend, you know next weekend, I was a little panicked."
Panicked, he asked what he could do.
"She told me the only way to take care of this matter is go to Walmart, and buy some cards, the ones named MoneyPak," said De Leon.
The amount she asked for was just dollars away from the bill he mailed... so he wondered.
"I was a little concerned, maybe I didn't mail the payment, maybe they didn't receive the payment."
And the woman was convincing.
"She was very professional, she did everything smooth, she was good."
So De Leon called back the phone number and extension she gave him, and read her the numbers on the card. She said workers would bring a receipt.
While he waited, he made another call.
"So I decided to call Edison, the 1-800 to see, so after I called, I found out everything was a fraud."
But it was too late, De Leon was out 1,600 dollars.
Now he has advice to give to people facing these scams.
"If somebody call them regarding because they got behind in Edison, gas company, IRS taxes, and different things, don't get panicked."
Southern California Edison gave us some tips to avoid imposters.

Identifying an SCE Employee

Occasionally, a Southern California Edison employee may come to your door regarding meter reading or other service.
Most, but not all, SCE employees who are likely to visit your home will be wearing uniforms.
When an SCE service person arrives at your home or office, even in uniform, however, you should always ask to see his/her SCE employee identification card.
An authentic SCE card will show the company name and logo, a color employee photo, the employee's name on the front, and an address to mail the card if lost on the reverse.
Always ask to see a utility worker's identification. They will be happy to show it to you.

Be Aware of Imposters
Once in a while, our customers are victimized by criminals posing as utility employees. California law helps protects SCE customers against such scam artists by making it a misdemeanor to impersonate a utility worker.
Protect yourself and your family by following these tips:

Most visits by utility workers are regularly scheduled or requested by the customer; SCE will notify a customer several times in writing before an SCE employee appears to disconnect electrical services. Vendors hired by SCE can visit to perform energy-efficiency improvements, but customers first must respond to a request from the vendor, so customers should not be surprised by a visit.
SCE employees never demand that you wire money via Western Union or pre-paid credit cards to prevent your electricity being shut off.
Never reveal your credit card, automated teller machine card, telephone calling card or personal identification numbers to anyone, especially over the telephone.
Before paying bills at a store or business, customers can verify that a vendor is an SCE authorized payment agent by calling 800-655-4555.
SCE employees will not ask for money, a credit card or to use a customer's telephone.
Be suspicious if someone shows up without an appointment asking to check an appliance, wiring or suggesting another electrical problem may be inside your home.
Payments intended for SCE should only be made out to "Southern California Edison" or "SCE." You also can sign up for paperless and online billing and payment at www.sce.com.
Do not let anyone into your home unless you verify who they are, see the individual's identification and know the purpose for the visit.
If someone calls and requests you to leave your residence at a specific time for a utility-related cause, be sure to confirm the call with SCE. This could be a burglary set up by the caller.
If an incident does occur, report it to local police and contact SCE immediately by calling 800-655-4555.
Call the police if you believe the person is an imposter. Do not allow anyone into your home claiming to sell SCE or Edison products or services. SCE employees do not engage in door-to-door sales. In addition, employees do not deliver cash refunds or rebates to customer's homes.
Do not pay for tree-trimming work performed by SCE contractors. We do not charge for line-clearance work. Additionally, before tree-trimming crews enter a neighborhood to do work for SCE, customers receive notices about the work to be done