Firefighters Battle Thermal Blaze in Scorching Temperatures
Angela Monroe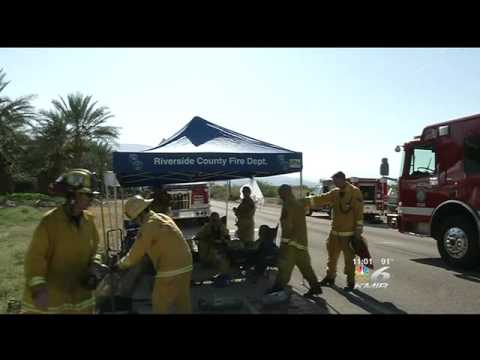 video
Photo: Video by kmir6.com
CREATED Jul. 9, 2012
A fire destroys a mobile home in Thermal, leaving three people out in the desert heat.
And Monday's scorching temperatures forced firefighters to battle the blaze in high triple-digit heat.

Firefighters spray water on the remnants of where once stood a home and outbuildings.
They had to battle the blaze during the hottest part of the day.
"With the temperatures reaching the high triple digits out here in the desert, and then humidity, it makes it for a very challenging, very physically demanding firefighters," said Captain Fernando Herrera with Calfire Riverside County Fire.
No one was home when the fire started, and no firefighters were hurt.
But because of their heavy gear and demanding job, they take precautions to avoid heat exhaustion.
"Normally you would have six engines respond to this, we would double that," said Captain Herrera.
And firefighters have mandatory breaks when battling a blaze during sweltering heat.
"We rotate our people every 15, 20 minutes, whether they want to or not, we rotate them out, make sure there's a fresh crew ready to continue with the assignment, and then rotate them out, hydrate them, a lot of water, gatorade, under a shaded area before we let them go back out, monitor their blood pressure," said Captain Herrera.
Unfortunately, fires spark easily during these hot summers.
"There is more probability that we will have a fire resulting from the heat."
So the fire captain has some recommendations for homeowners.
"For the areas down here, if you live in a mobile home, you want to make sure that you don't overload your circuits, that you are running just the proper amount that your electrical circuit can, don't use any extension cords, make sure you have a fire extinguisher hand, and if you have a fire, immediately call 9-1-1, report it and evacuate the home immediately," said Captain Herrera.
The cause of the fire is still under investigation.