Tourists Hope to Catch Skies Light up in Desert
Jessica Flores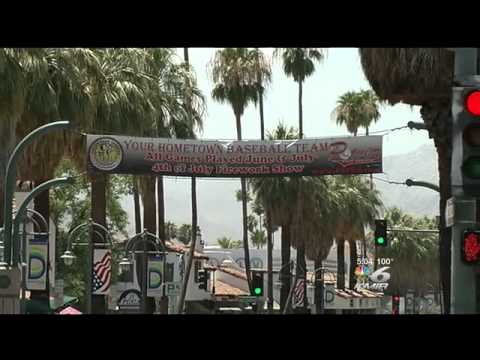 video
Photo: Video by kmir6.com
CREATED Jul. 3, 2012
The sizzling heat in the desert isn't keeping away the tourists.

"We are from England so it's just raining there and cold. So we love it, the weather has brought us here, definitely," said Kara Longden, visiting Palm Springs from England.

Foot traffic is steadily streaming in downtown Palm Springs.

"We'll leave as much money as we can here, which isn't a lot but we'll try and do our share," said Jack Brandon, from San Diego.

But even with 4th of July this week. Many area hotels still have vacancies.

"Last weekend we were completely reserved and this weekend we are going to be fully reserved as well. It's a little quieter during the mid week this week, however today we've been getting a lot of last minute calls," said David Curll, General Manager of the Saguaro Hotel.

Most visitors come from neighboring cities in Los angeles, Orange County and San Diego. Visitors and tourists alike can enjoy the fireworks shows across the desert.

A parade at La Quinta Community Center Park starts at 6pm. Fireworks go off at 9:00pm.

In Palm Desert, live music followed by a fireworks show starts at 7:30pm.

The fireworks show starts at 9:15pm at the Palm Springs Stadium following the baseball game.

Jessica Flores, KMIR6 News.