Major Roadwork to Begin on Several Valley Roadways
Angela Monroe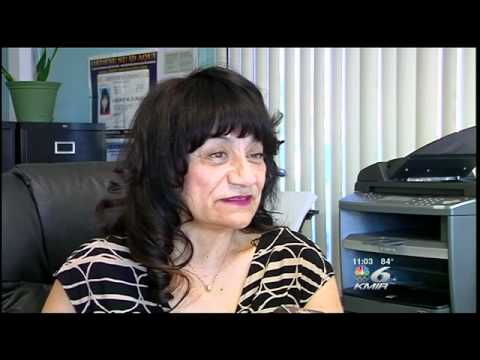 video
Photo: Video by kmir6.com
CREATED Jun. 27, 2012
Some major roadwork will be tearing up the streets and slowing down traffic in Cathedral City and Desert Hot Springs.
Millions of dollars of construction work is starting in both those cities and will last through the summer.
It will provide some much needed repairs, but also possibly some headaches for drivers.

Ramon Road in Cathedral City is filled with cracks and potholes, but some major roadwork is about to fix that.
But will the cone zone also slow down business?
"I do think business will go down, yeah," said Luis Calvillo at his father's store, Carniceria Mexico.
But on the other hand, Calvillo says the roads do need to be repaired.
"The roads are the worst, I drive all over the desert and I think Cathedral City is the worst you know, I've lived here my whole life and its been getting worse and worse," said Calvillo.
So now the six million dollar project will tackle that problem.
The first phase will be Ramon Road from Date Palm Drive to Davall Road.
The second phase is from Date Palm to Landau Boulevard.
Business owners we talked to said a new road is worth the hassle.
"I think its great because I think the roads do need improvement in this area, especially there's quite a few potholes here and there and that would help the city I think it would be quite an improvement," said Irasema German, owner of Insurance Services Agency on Ramon Road.
Work is scheduled until October.
Up the road, Desert Hot Springs has a long list of road projects planned for this summer.
3.5 million dollars worth of paving 10 miles worth of roads, adding sidewalks, curbs and gutters.
Residents hope the improvements will help the streets flood less when it rains, like a storm in December 2010 that caused sinkholes.
"When it floods you see a lot of mess on the sidewalks and the streets, especially on Cactus too, it all gets freaking cluttered up," said Desert Hot Springs resident, Steve Estrella.
Right now part of Cactus Drive is torn up for new sewer lines, after that the city will work on it.
And people we talked to said the construction won't bother them.
"Nope its worth it, completely worth, it's going to help us out a lot," said Desert Hot Springs resident, Andrew Murillo.
"Yeah we've been dealing with it for ten years, so it's pretty worth it," agreed Wiomar Ramirez of Desert Hot Springs.
The construction will last until October for certain parts of the Desert Hot Springs projects.
And in Indio, construction began on the Monroe interchange off of Interstate 10.