COD Investigating Football Program
Adrianna Weingold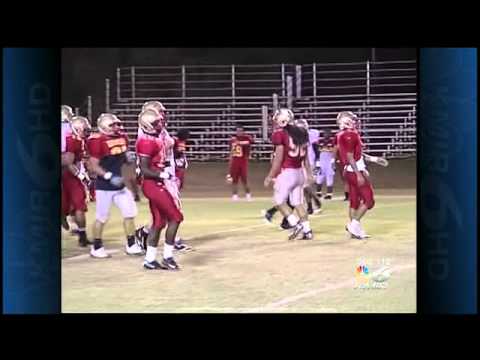 video
Photo: Video by kmir6.com
CREATED Jun. 27, 2012
PALM DESERT--It's a program that's getting a bad reputation. Just a few months ago players were accused of burglary - an altercation with police that left one star COD athlete dead and two others behind bars.
Now College of the Desert's recruiting process is under fire, after a local media report claimed it found unfair recruitment and eligibility practices.
"I know we don't do illegal recruiting because everyone is, everyone comes out here just to play football. Like I said it's one of the best places to play for a community college in the state." said cod football player Ben Alzalde.
Retired Riverside County District Attorney Grover Trask is stepping in to lead a private investigation into COD football recruiting and discipline.
The school's board of trustees want clarification to a newspaper report claiming more than 56 percent of COD football players were recruited from out-of-state schools - a violation of state community college athletic rules.
"I don't think the way the newspaper's going and you know the media how we're all taking it, if we're illegal recruiting. I just think that we get really good talent and we're lucky enough to get the good talent and I know as a player that we have a lot of kids out of state but I feel we're really lucky," Alzalde said.
Assemblyman Brian Nestande is also looking for answers.
"I am pleased that the former District Attorney Grover Trask has been assigned to determine if any violations have occurred. It is imperative that COD has the confidence of our community," Assemblyman Brian Nestande said in a statement.
The investigation will also look into how the athletic department handles disciplinary actions.
"It's too bad because, you know, people do make mistakes no matter where you go and it does not make our team as a whole as who we are. I mean there's a lot of young, great men here and it's too bad that the community and people see one bad thing and they think the whole team is part of that and it's not," Alzalde said.
Coaches at College of the Desert wouldn't speak on camera but did say the athletic department has nothing to hide.
Still COD is moving forward with an investigation and released this statement:
"Given the seriousness of the allegations regarding eligibility and recruitment practices, the Desert Community College District Board of Trustees has directed the Superintendent/President to seek the services of an independent investigator, retired District Attorney of Riverside County Grover Trask, to conduct a full and comprehensive, independent review of the football program, including the student Code of Conduct."
Coaches aren't sure how the investigation will impact recruiting but they say the truth will be revealed in the coming weeks.
--Adrianna Weingold
aweingold@kmir6.com