KMIR6 Speaks With New Chairman of Agua Caliente
Angela Monroe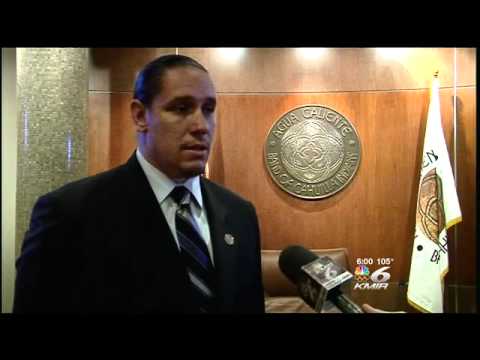 video
Photo: Video by kmir6.com
CREATED Jun. 21, 2012
Chairman Jeff Grubbe will now lead the Agua Caliente Band of Cahuilla Indians.
He had been the acting chair since Chairman Richard M. Milanovich's death in March.

We spoke with Chairman Jeff Grubbe, the new leader of the Agua Caliente, and already he says much will stay the same.
Newly elected Chairman Jeff Grubbe says he will honor the late chairman's legacy by following in his example.
"For me personally, just to be that selfless leader Richard was, he put the tribe first a lot of the times, he put the membership first and he did what was right for all of us, and that's one of the things I'm going to try to do as our new Chairman." said Grubbe.
Chairman Richard M. Milanovich passed away in March after serving for 28 years and leaving behind a great legacy.
Now the tribal council has their first new leader in decades.
"It's not just me stepping up, I have other members of council that are right there with me and the support of our membership too so just the hard part was losing our chairman," said Grubbe.
Chairman Grubbe has served on the Tribal Council since 2006, and as vice chairman since 2007.
He says they will focus on the economy and drawing more visitors to the valley, and overall stay the course.
"Just want people to know that we're going to be the same tribe that we've always been, nothing radical is going to happen, nothing is going to change, we care about this valley, we understand that we're neighbors, we have neighboring cities, we want to work well with the local governments, state governments, so we're going to be the same tribe, just a different face," said Grubbe.
Chairman Grubbe's grandfather also served on the Tribal Council.
Chairman Grubbe has also served before on the Agua Caliente Child Development Committee, the Election Board, the Gaming Commission and the Tribal Building Committee.