Indio City Council Says No to Taxes
Angela Monroe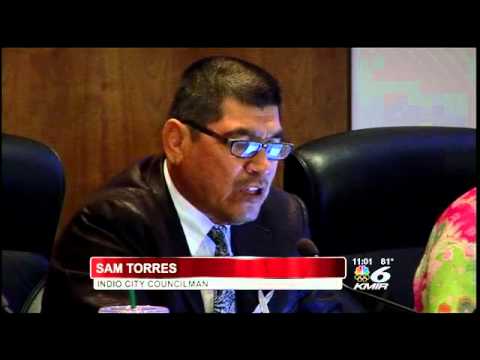 video
Photo: Video by kmir6.com
CREATED Jun. 20, 2012
INDIO - Indio city council said no Wednesday night to hiking the transient occupancy tax.
And the controversial topic of taxing Coachella Fest tickets surfaced again.
Indio council members say another councilman's efforts to add a tax to Coachella Fest tickets could drive the concerts from the city.

"I'm asking you here today, to stop this nonsense," said Indio Councilman, Michael Wilson.
Wilson says Councilman Sam Torres' efforts to add a six percent tax on Coachella Fest tickets will hurt Indio.
"You've got a valley wide business community that's saying in these trying times, in this economy, what you have, if you can't see the benefit of that, but you would rather go for the jugular to squeeze every nickel and dime, be careful what you ask for," said Wilson.
But Torres says residents raised their own utility taxes to help save public safety two years ago, and says the tax wouldn't be a burden on the producers of Coachella Fest, Goldenvoice.
"It's preservation of my city, preservation of the services and hopefully being able to keep and retain current employees, but hopefully hire back some of the employees we've laid off in the past," said Torres.
Councilman Torres has said he plans to gather enough signatures to put the ticket tax on the ballot.
But Councilmember Wilson said the proposed tax is making Goldenvoice consider backing out of purchasing the Eldorado Polo Grounds.
"Could cost us millions of dollars in revenue that we have right now today outside of a tax measure, jobs that we have today that they're hiring for three full weekends of concerts," said Wilson.
"I understand that it's an issue that's bringing a lot of people's passions out, and blame folks for being passionate about it, but if you're going to be opposed to it, or support it, I'd like it to be for the facts, not based upon the emotions," said Torres.
The council also got to vote on putting a resolution on the November ballot to raise the transient occupancy tax.
"Hotels, and campgrounds, and RVs, and my gosh, is there anything else we're going to tax, so you know I'm not in favor of this just for the record," said Mayor Pro Tem, Elaine Holmes.
The council said no -- 4 to 1 -- against putting that tax on the ballot.
On Wednesday night, Indio City Manager, Dan Martinez, said the budget is in the black for the first time in years.
However, they will cut 11 positions, but none in the police department, and city offices will open back up on Fridays.