Cathedral City Talks Cuts to Police, Fire
Angela Monroe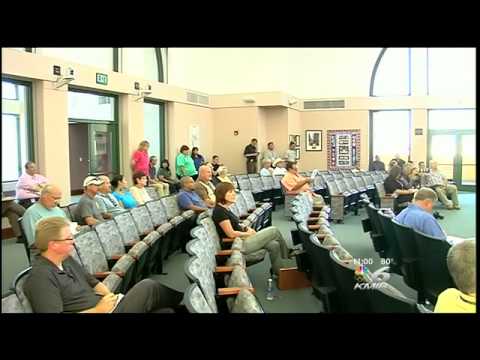 video
Photo: Video by kmir6.com
CREATED Jun. 19, 2012
CATHEDRAL CITY - The valley's second largest city is facing deep cuts to their budget, which means fewer police and firefighters protecting the city.

Cathedral City is still considering their budget and the cuts it will take to balance it.
Their layoff numbers are less than before, but still high.
Some Cathedral City residents say the layoffs to police and fire will cut their safety.
"I did some response time analysis of the fire department and there's currently three fire stations in Cathedral City, and what that means is if they eliminate one of those fire stations, it increases the response time to my house of about anywhere from 10 to 14 minutes," said Cathedral City resident, Chip Rayborough.
Cathedral City is looking at reducing their staff by 33 positions, but that doesn't include the currently vacant positions that aren't staffed.
"It's been kind of a triple whammy in the sense of the economic downturn has lasted much longer than anyone had hoped, in addition to that over the last few years the state has taken away money to help balance the budget, and then the final straw really is the total elimination of redevelopment agencies," said Cathedral City communications officer, Allen Howe.
Now the city is talking about laying off 14 in the police department, five in the fire department including the chief, and 14 at city hall.
"With that fewer numbers, response times are going to increase, safety issues for the city and the community, I think those are going to increase, for the officers themselves, there will be fewer officers to provide backup, to provide perimeters when we're looking for suspects to search for evidence, a lot of things that we really need to do," said Lt. Glen Haas with the Cathedral City Police Department.
The city council asked questions about the budget, looking for more ways to save.
But some in the community are frustrated by the cuts to safety.
"It's not very good, it's not good management, it's not safe for the residents, you know it just invites crime into the city because they know the levels are low," said Cathedral City resident, Steve Ellington.
Another way the city hopes to save money is with a possible joint 9-1-1 dispatch center with other neighboring cities.
Cathedral City will vote on their final budget, and the cuts that will come with it, next week.