Police Search for Louis Vuitton Luggage Bandits
George Severson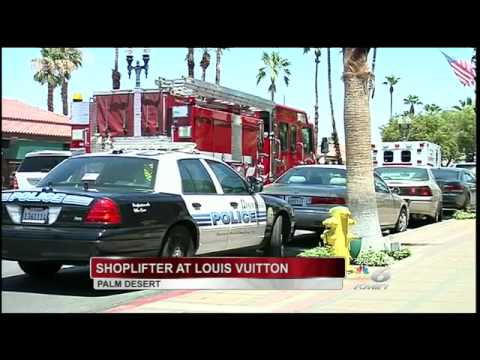 video
Photo: Video by kmir6.com
CREATED Jun. 19, 2012
PALM DESERT - Police are seeking a pair of luxury-brand luggage bandits suspected of robbing the Louis Vuitton store on El Paseo Tuesday afternoon in Palm Desert.
Officers from the Palm Desert Police Department are investigating the reported burglary which occured shortly after 1 p.m. Tuesday. The Louis Vuitton retail store is located at 73315 El Paseo.
Investigators say a man and woman entered the store and stole several items of high-value luggage. The suspects fled the store on foot and were last seen driving away from the location in a white four-door car.
One suspect is described as a black male in his 30's with braided hair, approximately 6 feet tall and weighing about 180 pounds. The second suspect is described as a black female also in her 30's, approximately 5 feet 5 inches tall and weighing about 250 pounds.
Police encourage anyone with information to call the Riverside County Sheriff's Department - Palm Desert Station at (760) 836-1600 or Crime Stoppers at (760) 341-Stop (7867).