Homeowner Watches Whitewater Canyon Blaze Near His House
Angela Monroe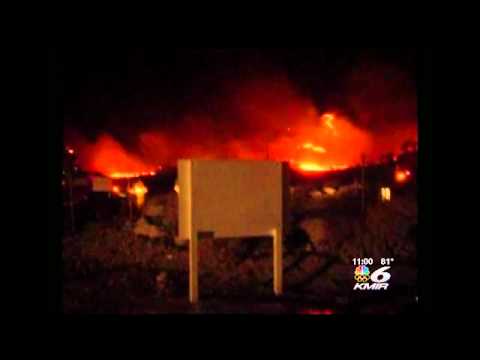 video
Photo: Video by kmir6.com
CREATED Jun. 18, 2012
CABAZON - Fire season is heating up as fires burned across Riverside County Monday.
High winds and hot temperatures fueled the fires, but firefighters contained the blazes.

Everyone is home safe now, but fifteen families voluntarily evacuated Whitewater Canyon Sunday night as fire climbed down the ridges near their homes.
We talked to one homeowner who watched the encroaching flames.
Marcus Hughes points to the charred ridge where flames hungrily licked down the mountainside.
"We had a rap on the door by the local sheriff's saying the fire is picking up, it started up on the west ridge there, above the San Andreas Fault, and we were all advised to evacuate."
But instead Marcus stayed where he was, capturing incredible images of the mountain all ablaze and fire engines in front of his home.
"At about 2 o'clock in the morning it looked like it was getting close, probably 600 feet, 200 feet from here, and there was an army of firefighters standing calm and ready to take it on," said Hughes.
Hundreds of firefighters took on the spreading blaze, and had the fire fully contained at 376 acres by 6:00 Monday night.
"Hey, what can I say the Old Glory is flying because of Riverside County Fire Department and the Sheriff's Department, and they did a wonderful job," said Marcus Hughes.
Marcus has this 2,500 gallon storage tank of water for the fire department in case of an emergency.
And he encourages people to be vigilant and prepared, especially living in an area with such volatile winds.
"The eighth windiest place on this planet, and when you have temperatures of 110 and 115 degrees, and you have all this dry desert fuel, you just must be prepared," said Hughes.
And Marcus is ready, just in case another fire encroaches on the log home he is building in Whitewater Canyon.
Calfire says the cause of the blaze near Cabazon is under investigation.