Family, Friends Mourn and Remember Christian Morales
George Severson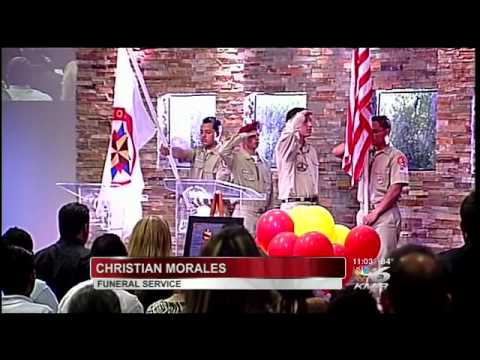 video
Photo: Video by kmir6.com
CREATED Jun. 18, 2012
CATHEDRAL CITY - Funeral services were held Sunday evening for the teen who died during water polo practice earlier in the week in Indio.
A bilingual funeral service for Christian Morales was held at Templo Victoria, the Spanish Assembly of God Church in Cathedral City, and was open to the public.
Christian's mother Blanca Morales says she's still in shock over the sudden loss of her son. The exact cause of death has not yet been determined. Christian was 16 years old.
The service focused mostly on Christian's life, with many in attendance sharing their fondest memories of Christian.
On Saturday, dozens of students, parents and staff from Christian's high school, Palm Desert High School, organized a charity car wash to help Christian's family cover funeral expenses. A fund to help the Morales family is established at First Bank in Palm Desert.
Burial service for Christian Morales is set for 6 p.m. Monday at Forest Lawn, 69855 E. Ramon Road in Cathedral City.