Hazardous Waste Concerns in Mecca
Angela Monroe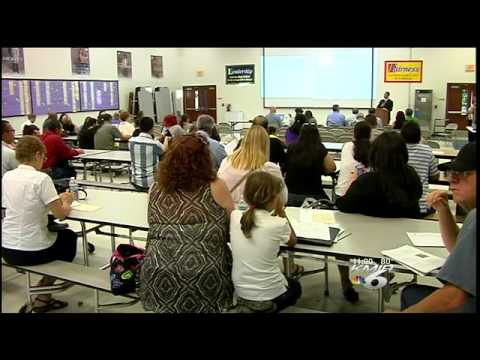 video
Photo: Video by kmir6.com
CREATED May. 17, 2012
The town of Mecca has been plagued by a foul odor, that sickened students at schools, and families at their homes.
Thursday night, the Department of Toxic Substances control spoke to the community.
You may remember in late 2010 and early 2011, students and teachers at Saul Martinez Elementary were sickened by a terrible smell.
Since then, different environmental agencies have investigated the cause.
Mecca resident, Alicia Rubio, says the sickening smell is better.
But she says her son and herself used to suffer headaches and burning eyes.
"We're not sure, it's not that noticable anymore, but we're not sure if it's really the bad air has gone away because what we think is maybe toxic substances are still here," said Rubio.
Assemblymember Manuel Perez says there are now more answers for the community.
"My hope though is that the community realizes and understands that we have the sampling, we do have the information, and then from that, I also want to make sure that we will find out what we do next," said Assemblymember Perez.
Environmental experts say at least part of the smells came from Western Environmental, a recycling center.
They stopped taking hazardous waste in May.
The state Department of Toxic Substances Control tested their site throughout the past year.
"We found based on the sampling, the testing that we did, we did not find hazardous waste level chemicals, but we did find some of those waste with levels that would require that this waste be placed in a commercial/industrial facility," said project manager, Hamid Saebfar, Department of Toxic Substances Control.
But to take hazardous waste again, the DTSC says there are 19 upgrades Western Environmental has to make.
Because Western Environmental is on tribal land they are governed by federal agencies, not California, which are more strict.
But Western Environmental is looking at making those state proposed changes.
"Western has decided it is not going to take in what is termed as California hazardous waste until such time as there is an agreement between the tribe, and the DTSC, and Western in terms of how that's going to be done," said the scientist contracted by Western Environmental, George Bower with ESRA Consulting.
And people living in the community, want to know what's going to be done.
"I would like to hear of a good solution here for all the community and for all of us, who live here in this area," said Rubio.
DTSC says what comes next is the Cabazon Band of Mission Indians will decide if they agree with the conditions, then they will negotiate, and finally get public comment before making a final decision.