KMIR6 Takes You Off The Grid Into Slab City
George Severson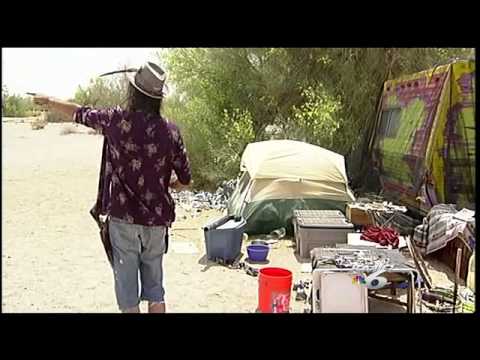 video
Photo: Video by kmir6.com
CREATED May. 8, 2012
SLAB CITY - About an hour outside of palm desert, lies slab city. Some say it's filled with drugs and sex. To others it's an artists commune full of runaways who just want to be left alone.
"I sort of got run out of the rest of the world," said Slab City resident Builder Bill.
"You can do whatever you want out here as long as you don't hurt yourself or anyone else or break our stuff," said Slab City resident Frank Redford.
To the slabbers, it's the last free place. A place without rules, without rent and without repercussions where many people go to park their troubled lives on the concrete remains of a World War II training camp now known as Slab City.
'It's very very hot," said new Slab City resident Jack "Two Horses" Martin. "There's scorpions everywhere. I personally killed two rattlesnakes here in the last two days trying to bite my cat. The wind blows very very strong. There's no water, there's no electricity, you have to supply your own."
But people still call this barren piece of the desert home. Some are runaways, others fell victim to the tanking economy. For Jack "Two Horses" Martin, life in San Francisco was too expensive, so on Christmas Eve he googled "how to live for free." He ended up in Slab City.
"I like how it's out in the middle of nowhere and I really don't mind the harsh environment, kind of keeps a lot of people away," said Martin.
It's a gritty dose of the great recession reality. There's no running water or sewer system, the only electricity comes from the sun. Still, life off the grid also carries a less than favorable reputation, one of drugs, sex and violence.
"They believe that everybody has a shotgun and that we're living in some lawless society and that's not what it is," said resident Frank Redford.
At 35 Redford had accomplished his dreams but still wasn't happy so he decided to take a two month hike. He ended up hitch hiking across the United States. 5 years later, he's still coming back to Slab City.
"Happiness is real easy," Redford said. "If you're not happy you can leave but if you want to run with scissors, if you want to melt plastic toys, if you want to do any of those things that they told you you couldn't do as a kid you're allowed to do that here."
He lives at the slabs part-time, looking after the artist commune known as East Jesus. But others like "Builder Bill" have made these slabs their home base for more than a decade.
"What I'm doing now is the first time I ever did anything that made a difference in the world," Builder Bill said. "Well anyone could imagine how things could be better but I think i'm pretty happy with myself and my life."
Happiness in a land that's desolate, harsh and dangerous. A neighborhood where piles of trash become makeshift fences, bottles become walls, and people, willing to risk a no-rules lifestyle can live freely.
--Adrianna Weingold
aweingold@kmir6.com