La Quinta Residents Outraged by "Dump"
Angela Monroe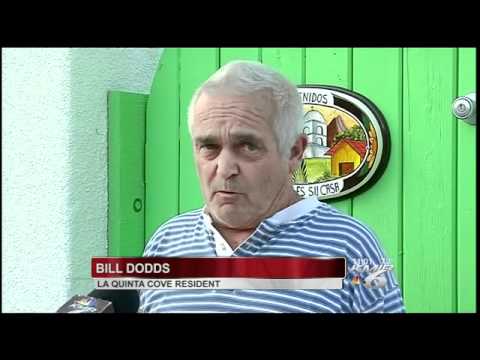 video
Photo: Video by kmir6.com
CREATED Apr. 30, 2012
A debate is brewing in a La Quinta Cove neighborhood over what residents say is a dump forming right in front of their homes.
Some fed-up La Quinta residents said that the city is allowing La Quinta Resort to dump landscaping materials right by a popular trail.
They say they have complained repeatedly, but the garbage keeps coming back.
La Quinta Cove is known for its beautiful, mountainous views, but neighbors say an eyesore is marring their community.
"I don't know how to put it any other way at this point, its just a dump." said La Quinta Cove resident, Dale Wissman.
Wissman says the stench and flies are just part of the problem.
"We had people over the weekend scavenging some of the irrigation pipe, and some of the more valuable things, and the real breaking point for us was that we had at least one guy try to back his truck up in here, its just kind of the nature of a dump," said Wissman.
Bill Dodds has lived on this block since 1996, before the maintenance facility popped up.
"It's so many flies I can't believe it, and the smell, its really bad, but we're getting so used to it, that we just go inside," said Dodds,
And neighbors say those aren't the only problems.
"We have really bad neighbors that get away with things that none of us on this side of the street could do, such as all of the heavy equipment in an area that isn't zoned for heavy equipment, using the street for their own business, they stack cars and trucks and they are actually ruining the street," said neighbor Steve Renew.
A La Quinta Resort spokeswoman said she wasn't aware of the issue, but would look into it.
The city of La Quinta also said that they were not aware of any contact to the city by the residents.
So what would neighbors like Bill Dodds like to see?
"At least put big dumpsters with canvas covers if they can't get rid of it so quick, and quiet down, start a little later," said Dodds.
Neighbors like Wissman are fed-up.
"We're going to pursue all avenues to get rid of the dump, and clean this facility up, including litigation," said Wissman.
The city of La Quinta said the land is not city land, but said they will be contacting the resort and asking them to remove the sod and dirt in the morning.
They also added the material by the maintenance facility is not toxic or dangerous.
We'll continue to bring you the very latest developments on this story.