Stagecoach 2012: Going Country in the Desert
Angela Monroe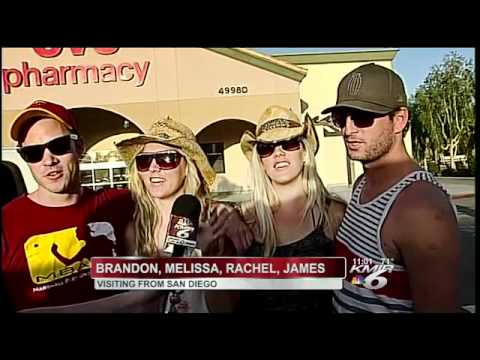 video
Photo: Video by kmir6.com
CREATED Apr. 27, 2012
The music just keeps on playing at the Empire Polo Grounds, but this weekend it is to a different tune.
The Stagecoach Music Festival's country invasion has begun.
Country music stars are singing, the Budweiser Clydesdales are galloping in, and there's a lot of cowboy hats and boots in town.
That can only mean one thing...
"Stagecoach, woo, yes!" cheered Barbara, Anna and Michelle, visiting from San Diego.
Where else can you wear shorts and cowboy boots?
"We are wearing matching cowboy boots that we got in Nashville." said Barbara.
A big country line-up and these ladies are getting their first taste of Stagecoach Music Festival.
"The madness, everything that comes along with it, the RV's, barbeque contest, music."
Brandon, Melisssa, Rachel and James have been going country for years.
"Four years, five or six times in a row, the camping, I do not listen to country music. I do, and Miranda Lambert, oh my god I'm so excited for them too and the band Perry. It's the most fun you're ever going to have in a hot area," said the San Diego group.
Even though its warming up for this weekend's hot music festival, fans say they can take the heat.
"I love it, coming from Scotland, it's pretty awesome, because its cold over there and 100 degrees over here, can't beat it," said Stuart Mearns, who just moved to Newport Beach from Scotland.
Stuart has come to the country festival for two years with his fiancee.
"It's a great atmosphere, great crowds, lots of people enjoying themselves, drinking, having fun," said Stuart.
Another attraction?.
"The cowboys don't hurt at all," said Rachel.
And they intend to beat their 75 person flip cup drinking game record from last year.
"It gets bigger every year, so I'm pretty sure we might break it. It is definitely not easy to get that many drunk people to do something."
Other people are braving the traffic tie-ups to drop family off.
"We just dropped them off and their was a huge huge line-up, and we waited forever to drop them off, we should have just dropped them off a few blocks away," said part-time Indio resident, Wendy Achton.
Wendy just started listening to country and, "It's like you know what, I could get into country western now."
So saddle-up folks, its time for...
"Go Stagecoach 2012 wooo!" cheered Barbara.
Saturday night's big headliners are husband and wife team, Miranda Lambert and Blake Shelton.
Sunday, Brad Paisley and Cheryl Crow will close out the weekend.