You're Hired!
Adrianna Weingold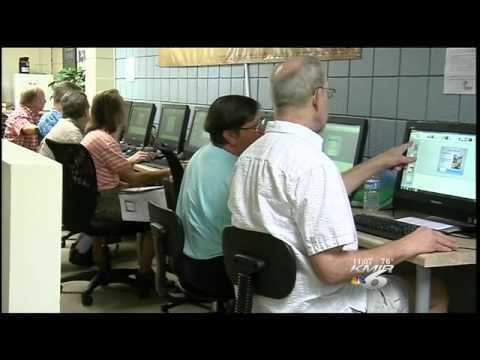 video
Photo: Video by kmir6.com
CREATED Apr. 27, 2012
COACHELLA VALLEY--There is no easy answer, but making sure what you're doing and how you invest your time while you're searching is key. We set out to find out what employers really want and what you need to do to get ahead of the competition.
Job seekers spend weeks, months, even years searching through lists of potential jobs. It's easy to get lost in mega job sites, and even easier to get lost in the sea of applicants applying right along with you. We went to the job experts to see how you can get your resume to the top of the pile.
"I think the first thing is when they put a resume together it's making sure the resume is relevant to the job and applying to jobs that their experience is relevant for," said Shane Lamb, Vice President at Kimco Staffing Services.
Kimco Staffing Services places thousands of people every year at companies across California. Lamb says the first step to landing a job is perfecting your resume.
"When you put a resume together it has to be relevant. It has to be eye catching, and you have to catch somebody within the first couple of lines of that resume," Lamb said.
Try starting with a professional profile. Outline your experience, and what you're looking for in 2 to 3 sentences at the top of your resume. Experts say unless you're applying straight out of school, listing your education as your most important feature is a thing of the past.
"Content is incredibly important. You've got to convey who you are what your strengths are in a concise and compelling way. Be precise. People tend to go on at length too much in their resumes. They need to state their skills succinctly," said John O'Connor, Executive Director of the LGBT Community Center of the Desert.
O'Connor also spends countless hours sifting through resumes to find candidates. He also oversees SAGEWorks, a program offering a multitude of job skill training. O'Connor says despite the push towards online applications there's still a human aspect to your search.
"Constantly putting yourself out there; Introducing yourself, meeting people, and making conversations. You just never know when you're going to strike up a conversation that's going to lead to a potential work connection," O'Connor said.
"It has been difficult," said job seeker Charles Anderson. "I've been searching online quite a bit. Not many responses, few responses in fact."
So after years of job hunting, Anderson, like so many others in the Coachella Valley, decided to branch out, re-train and re-work his job search strategy.
"I think it was sort of an inherent instinct that something isn't right," Anderson said. "I'm not doing something right because you would think I would have gotten more responses or that type of thing."
It's something we're hearing more and more, be persistent. If you're not finding a job, look at what you may be doing wrong.
"Individuals may have done everything they can to find work and find that their old occupation has dried up. It may have gone away and it might not ever return and so training might be the absolute best option for them," said Henry Greene, Department Representative at the Workforce Development Center in Indio.
When Terrell Crawford found himself suddenly out of work he knew it was time to expand his skill set. Crawford turned to the Indio Workforce Development Center for guidance and training in renewable energy.
"It gives me a second chance with another career, and it's kind of unheard of right now," Crawford said.
Across the board we heard the same advice from head hunters, HR reps and county employment officers--make your resume snappy. Point out what you're good at and how your skills will benefit the company you're applying to.
"We encourage people to work smart instead of working hard," Greene said.
"We as employers don't want to see the job description. What we want to see is your achievements in that job. If we're hiring an office admin, I already know what an office admin is. I want to see what you've achieved in that role not what you did day-to-day," Lamb said
After listing your experience and achievements, list any professional organizations you're a member of, including networking groups. Last on your resume should be your education. It seems like a lot but the entire resume should be no longer than 2 pages.
Most importantly be confident and don't give up. Persistence definitely pays in today's cut-throat job game.
Advice From Our Experts:
- Start your resume with a Professional Profile. 2 to 3 sentences outlining your experience and what you can bring to the job.
- Next, list your Professional Experience. Remember to list your achievements rather than your day to day work assignments.
- After experience list Professional Organizations.
- Education should be at the bottom of your resume.
- Fine tune and customize your resume to address the specific job you're applying to.
- Make connections, volunteer, and network in the community. You never know who may be looking for new employees.
- Watch your online footprint. Employers check social networking sites like facebook and twitter. If you don't want them to see something, don't post it.
- Have fun and be persistent.
Job Resources:
44-199 Monroe Street, Suite B
Indio, CA 92201
(760) 863-2500
Palm Desert Location
44-100 Monterey Ave., Suite 202
Palm Desert, CA 92260
(760) 836-3766
611 S. Palm Canyon Drive, Suite 201
Palm Springs, CA 92264
(760) 416-7790
--Adrianna Weingold
aweingold@kmir6.com