CASE Act Fights Human Trafficking in California
Angela Monroe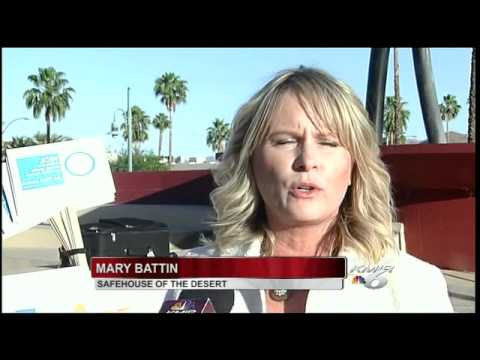 video
Photo: Video by kmir6.com
CREATED Apr. 26, 2012
Human trafficking is the second largest criminal enterprise in the world--and its happening right here in Riverside County.
Thursday night there was a vigil in Palm Springs to raise awareness about human trafficking right in our own backyard.
Advocates are trying to pass the CASE Act to fight trafficking.

It's called modern day slavery, and human trafficking is growing in the United States.
"I grew up in a great household, regular suburban family in Minnesota, you'd never think this would happen to someone like that," said Laura Kokkila, who was a victim of human trafficking.
Laura says she fell into a bad crowd, and drugs.
"A pimp ended up finding me and getting me clean from drugs, but he made me very trusting in him, and he sold me for a year and a half until I got out of the industry by police intervention," said Laura.

And SafeHouse of the Desert says they see many trafficking victims right here.
"Our youngest girl believe it or not was 11 years old who walked through our door," said Mary Battin, Sustainability Officer with the SafeHouse of the Desert.
Candles lit to remember those victims, and a march in downtown Palm Springs to raise awareness about human trafficking.
"Some of them are sold into slavery by their own parents, some of them are loitering on the streets and they find some man who gives them an iPod and pretty clothes and suddenly they are in that life," said Battin.
The problem is so big in Riverside County that an anti-human trafficking task force was created a year ago.
"It is in fact modern day slavery, but it doesn't always present like you think, it can be in restaurants, it can be in care homes, it can be in individual homes, it can be out in agriculture, there's really no end to where you can find human trafficking in Riverside," said Million Kids Director of Development, Opal Singleton.

California has an unfortunate distinction when it comes to human trafficking.
"The only state that has the distinction of having 3 cities in the top ten of the FBI list of child sexual exploitation, San Francisco, Los Angeles, and San Diego," said Ginger Shaw, with the advocacy group, Free Them Road.
The CASE Act would increase prison terms, require sex traffickers to register as sex offenders, force them to disclose their internet accounts and take criminal fines from convicted traffickers to pay for services to help victims.
"Not only is it going to implement laws that are absolutely needed to stop this heinous human rights violation against our children against our citizens, but it would speak to the volume of Californians who want to do something about this issue," said California Against Slavery founder, Daphne Phung.

And Laura hopes the CASE Act sheds light on this problem.
"It's so secretive, not many people know about it, and its modern day slavery."
The CASE Act got over 865,000 signatures, well over the amount needed to make the November ballot.