Local Police Crackdown on Distracted Driving
Angela Monroe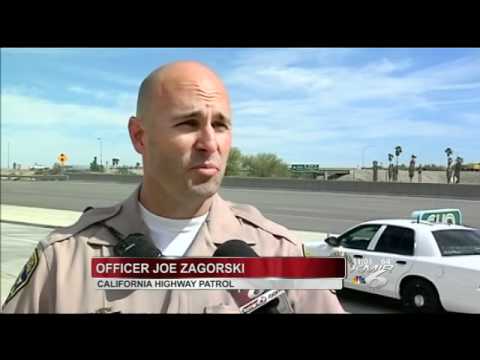 video
Photo: Video by kmir6.com
CREATED Apr. 2, 2012
If you're talking or texting on your cell phone while driving this month, you're chances of getting a ticket are about to skyrocket.
April is Distracted Driving Awareness Month, and law enforcement is cracking down on drivers.
California Highway Patrol is doing a TV blitz with a campaign called "It's Not Worth It!"
The "It's Not Worth It" campaign is filling the airwaves with this message: dont text and drive.
"Yeah, I've seen them, they're really pushing it, but I haven't really seen anyone or know anyone that's gotten a ticket for texting and driving," said Indio resident, Danielle Anderson.
But California Highway Patrol is kicking off zero tolerance on Tuesday. They plan to write a lot of tickets with the help of new low-key patrol cars.
"It's not an obvious police car, I mean it has the telltale signs if you are paying attention that you can see it, but if you're paying that well attention, then you're probably not going to get a ticket from us, but we're primarily using this for the Distrated Driver Awareness Month, this month," said Officer Joe Zagorski with California Highway Patrol.
We asked drivers if they talk or text on their cell phone while driving.
"I have once or twice, but I'm still a beginner driver, so I'm kind of trying not to do it," said Indio resident, Nancy Romano.
And Nancy did notice a difference in her driving.
"I did miss, you know my light was green, so I did miss that," said Romano.
Officers say teens are often the most likely to be texting and driving.
"Sometimes when I'm at a stop light, and its an emergency or my mom has been non-stop, because she goes through these periods where she thinks I'm dead, so she'll non-stop be texting me, or non-stop be calling me until I respond," said Anderson.
"We want to tell parents that you should be sending them text messages when they're driving or you think they might be driving, because they're going to read it, and they're going to respond," said Officer Zagorski.
A Carnegie Mellon University study showed talking on the cell phone can reduce more than 35 percent of the brain activity needed for driving.
"Not many people I imagine would close their eyes while doing 70 miles an hour on the freeway, they would think that's crazy, but everyone who looks down at their phone while driving is essentially doing that," said Officer Zagorski.
Drivers also say its one of the biggest problems on the road.
"A lot of times when people text and drive they swerve, and that's the scariest thing and that's what I noticed," said Anderson.
So this months message is...
"Just don't do it," said Romano.
It's not worth it.
Last April, California law enforcement wrote over 50,000 tickets for distracted driving-- four times the monthly average.