American Documentary Film Festival
Jaffa King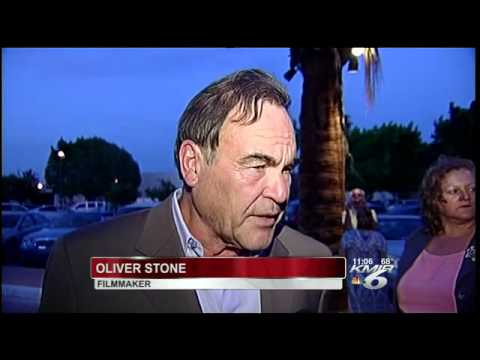 video
Photo: Video by kmir6.com
CREATED Mar. 30, 2012
PALM SPRINGS - The first annual American Documentary Film Festival opened Thursday with a special screening of Oliver Stone's controversial 2003 documentary, Comandante.
Prior to the screening, Opening Night ticket holders were treated to a pre-opening party at the new Saguaro Hotel in Palm Springs.
Oliver Stone along with his son Sean attended the Opening Night festivities, where Oliver was presented with the Festival's first Filmmaker Who Makes A Difference Award.
The American Documentary Film Festival is screening over 50 documentaries this year.
Among them, the startling Canadian documentary, Overlooked Suspect, What if O.J. Simpson Didn't Do It?, which details an incredible 15-year investigation into the O. J. Simpson murder case, the poignant I Stand Corrected, which charts jazz legend Jennifer (John) Leitham's rise as a virtuoso of the upright bass and reveals how she risked everything with her decision to undergo sexual reassignment surgery, and Ordinary Joe, the story of a beer drinking, blue-collar roofer and Vietnam War veteran from Long Island, New York, who travels back to Viet Nam every year to seek out the poor, diseased and disabled, and bring them his own brand of aid and hope.
For more information, and a complete schedule listing, visit: http://americandocumentaryfilmfestival.com/
The American Documentary Film Festival runs through April 5th with screening being held at the Camelot Theatres in Palm Springs.
Tickets: http://www.showclix.com