Taking the Plunge into Poppie's Pond
Adrianna Weingold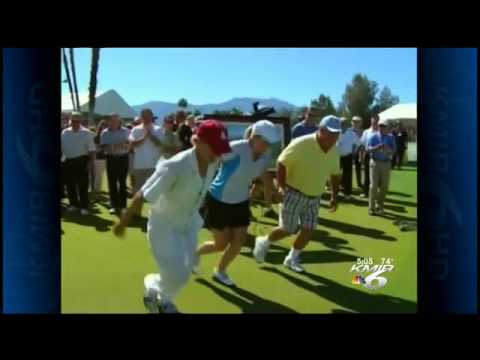 video
Photo: Video by kmir6.com
CREATED Mar. 26, 2012
RANCHO MIRAGE--It's a tradition that's made a splash here in the desert since the 80's, jumping into the champions pond at the Kraft Nabisco Championship in Rancho Mirage.
Monday marked the first ever "christening of the pond" where the first jumper, Amy Alcott and the latest Kraft Nabisco Champion Stacy Lewis helped put the finishing touches on Poppie's Pond.
"It's a big deal because whenever the LPGA is highlighted throughout the year, whenever they mention the LPGA they typically show who won because it's such a dramatic finish," Tournament Director Gabe Codding said.
A dramatic finish that started almost 25 years ago on the 18th hole at the Mission Hills Country Club when Alcott won the tournament in 1988. She took her caddy by the hand and headed for the pond.
"I said to my caddy we're going into the water and we grabbed each other by the arm and we went flying into the murky water," LPGA Legend Amy Alcott said.
It was the first of what would become the most infamous tradition in womens golf.
"That was even as thrilling as winning the tournament," Alcott said. "it's like they probably thought I was a freak but it was a nice tradition to start."
The pond was less than desireable back then, it was still meant more for fish than people, but it's been drained and scrubbed. A special section complete with a jump zone, just for the champions.
"You hear a lot of players like Stacy say if I was doing it I would do a cannon ball and I guarantee you when they come here on-site and they're walking the fairways they're thinking about what they would do if they win, what kind of jump they would do and who is going in with them," Codding said.
"The jump and really a lot of it went by so fast I mean I don't even remember the final round," Defending Kraft Nabisco Champion Stacy Lewis said. "You're just going on adrenaline so much but to be a part of that tradition, see my name on the bridge every time I walk over is unbelievable."
A win she's hoping to recapture this year, another chance to make a splash at the Kraft Nabisco Championship.
--Adrianna Weingold
aweingold@kmir6.com