Gay Couple Arrested on Cruise Ship Speak Out
Jessica Flores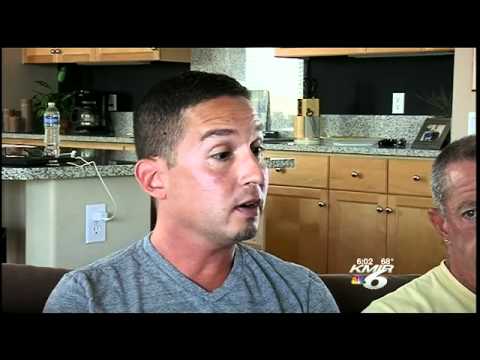 video
Photo: Video by kmir6.com
By Jessica Flores. CREATED Mar 25, 2012
PALM SPRINGS-- The two men who spent 19 hours in jail for allegedly having sex on a cruise ship are home tonight. KMIR6 was the first station to speak to the couple at their Palm Spring home.
The couple Dennis Mayor and John Hart describe a humiliating experience, in which hundreds of locals in Dominica harassed and taunted them in jail and on the streets.
"I know what it really does feel like now to be hated, hated by a country," said Mayer.
Police originally charged the couple with sodomy, but that charge was reduced to indecent exposure. Advised by their lawyer, the couple plead guilty and each paid up about a $900 fine. The couple admits to being naked on their private balcony. But they say the treatment they received for breaking the local law was inhumane. The
"There was at one point when we were about to go into this jail cell, Dennis told me be prepared to fight and protect yourself and that kind of was an eye opener and it was scary," said Hart.
Police kept the couple in a small cement cell. The couple says roaches were everywhere and they slept on a piece of cardboard. They say police would bring by locals to taunt them.
"They did try to make an example out of us. They paraded us around the town. The local media there fanned the flames of gay hatred and the locals came out and vehemently protested us being in their country," said Mayer.
The couple says the Atlantis Cruises did not tell them about the laws in Dominica. The cruise line takes thousands of gay couples to the island every year.
"The LGBT community needs to think twice about spending the gay dollar in a country that hates us so much," said Hart.
--Jessica Flores KMIR6 News.