Families Walk to Stop Suicide
Jessica Flores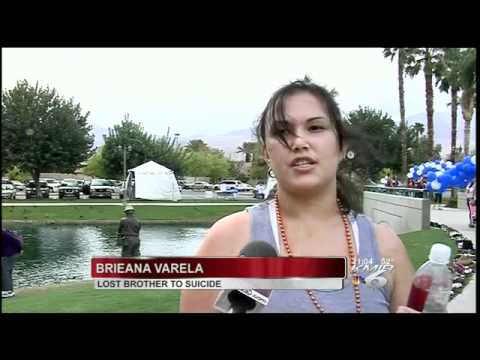 video
Photo: Video by kmir6.com
CREATED Mar. 17, 2012
PALM DESERT- Locals took part in a walk to promote suicide prevention. The American Foundation for suicide prevention put on the second annual walk in Palm Desert.
The 5k walk, called out of the darkness, brought to light the issue too often tucked away.
"Todays event is really about breaking the stigma surrounding suicide, raising awareness of mental illness and providing support to those who have lost a loved one or struggled with suicidal thoughts," said walk organizer Jessica Van Der Stad.
More than 400 people walked to remember loved ones.
"He was only 13, so it was totally out of left field and unexpected so it's kind of crazy to see how many people really deal with the same situations that we deal with," said Brieana Varela, who came to remember her brother.
In Riverside County in 2010, 198 people committed suicide.
"We are not alone as survivors of suicide and to help share in peoples recovery and to just donate to a good cause," said Laura Walker Jacobs, who lost her sister to suicide.
Walkers helped raise more than $19,000 to benefit suicide prevention programs.
"Your spiritually lifted because of the support everybody banding together," said Gina Tovar who lost her son to suicide.
Jessica Flores, KMIR6 News.