Pizza Eating Challenge "Easy" For Hungry Duo
George Severson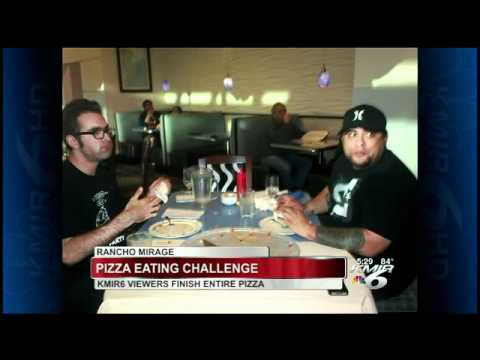 video
Photo: Video by kmir6.com
CREATED Mar. 16, 2012
RANCHO MIRAGE - Two brave and hungry KMIR6 viewers put their stomachs to the ultimate test. John Rivera and Naader Reda were watching KMIR6 News last month when they saw a story about a BBQ chili cheeseburger pizza at Agua Caliente Casino in Rancho Mirage. The massive pizza, weighing more than 6 pounds, is free to anyone who can finish it in 30 minutes.
On Thursday, John and Naader took on the ultimate eating challenge. Many people have tried to finish the pizza packed with chili, bacon, ground beef, cheese and french fries but everyone has failed, until now.
John and Naader were able to eat the entire pizza, not in 30 minutes or even 20 minutes, but in just 11 minutes. It took just 11 minutes for the pair to devour everything except the pan.
They told us it was easy and that they even finished the meal with a slice of cake. The friends say they plan to do it again. For their achievement, both received an Agua Caliente Casino t-shirt and their meal was free.