<!— PENCIL PUSHDOWN AD TAG —>
CD3 candidates show wide range of opinion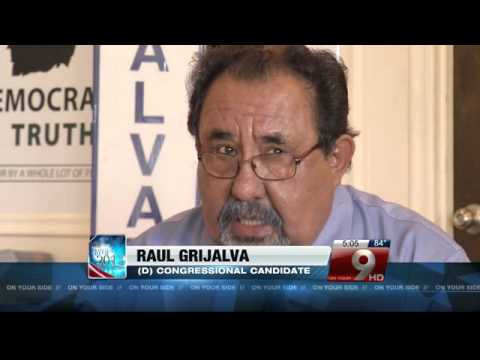 video
Photo: Video by kgun9.com
CREATED Oct. 11, 2012
Reporter: Craig Smith

TUCSON (KGUN9-TV) - Raul Grijalva faces two opponents as he works for a sixth term in Congress: Republican Gabriella Saucedo Mercer, and Libertarian Blanca Guerra.

There's a wide split between Grijalva and Saucedo Mercer when it comes to jobs and the economy.

To build the economy and develop more jobs Saucedo Mercer thinks government should get its nose and its regulations out of the business world.

Saucedo-Mercer says: "We need to let the free markets flow. The private industry needs to do it on their own. They don't need the governments help to pick losers or winners."

But Congressman Grijalva thinks the government has an obligation to get involved with businesses as a partner. As an example he cites a new biotech company just opened in Tucson---with the help of Federal recovery money.

Grijalva says: "In the process, by starting that center, the potential of being created seven to eight hundred jobs---high tech, very well run and I have every belief that there has to be an investment on the part of government. For us just to wait for trickle down to trickle? It's been ten years and it hasn't trickled and it hasn't created the job base we need."

Libertarian candidate Blanca Guerra says voters should choose third party candidates like her; as a way to break the Washington gridlock as the two major parties battle each other.

Like Saucedo Mercer, she cites Rosemont Copper's long fight for permits to mine in the Santa Rita mountains as an example of government blocking jobs. Congressman Grijalva has been fighting to stop the mine which he sees as a blight on the environment and a job killer for tourism.

On border security, Guerra favors shifting resources towards more Customs agents to help businesses speed the flow of products from Mexico. To her, securing the border does not mean building more walls, it calls for smarter use of Border Patrol agents.

She wants to reform immigration policy and says current strategies encourage crime.

Guerra says: "There are people from the other side of the southern neighbor want to come to the United States for example for harvest season; to make some money, pay their taxes here, buy our produce here, our products here and take them home to Mexico. We don't allow that. We force them to pay their thousands of dollars to criminals who bring them across the border illegally."

Grijalva wants to tighten the focus on organized border crime and work for immigration reform. Saucedo Mercer says she favors legal immigration but wants to close the border first.