<!— PENCIL PUSHDOWN AD TAG —>
Mother of man killed in wheelchair by TPD speaks out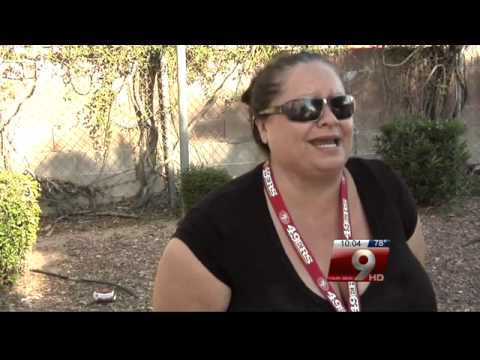 video
Photo: Video by kgun9.com
CREATED Sep. 17, 2012
Reporter: Aaron Brackett
TUCSON (KGUN9-TV) - "Please, I just want my son back...Please, that monster killed my son, that monster killed my son," exclaimed Anna Delacruz, a distraught mother of, 23 year old Johnny Castillo-Romero who was fatally shot by police Saturday September 15th.
During her short visit to the Valencia Garden Apartments, Delacruz spoke out to 9OYS.

"Johnny was a wonderful kid, he was funny, he would make you laugh and make jokes, said Delacruz. "I love my son, what can I say, I love my son and I want him back."

Romero's brother, Patrick, also spoke to 9OYS saying his brother loved camping and motorcycles, and he was not violent.

"He wasn't a violent person, just wrong place at the wrong time which lead to him getting shot in 2008," said Patrick. "He never gave up hope, he was always strong minded, tried his best, and he wasn't supposed to go out like that."

Despite police reports indicating Romero had fired a shot at another man minutes before taking aim at officers, his mother maintains his innocence.

"That monster, that killed my son, I want justice," Romero said. "I will seek justice."
As of Monday, homicide detectives and internal affairs officers continue their investigation to determine whether proper police procedure was followed.